SoftBank's Ele.me Cash Will Act as Halon or Kerosene
(Bloomberg Opinion) -- For a while there it looked like China's online-to-offline wars were over.
A merger of taxi rivals to eventually create Didi Chuxing led to the exit of Uber, bringing relative calm to the ride-share sector.
After Meituan and Dianping joined forces in 2015 to form Tencent Holdings Ltd.'s food delivery powerhouse, Baidu Inc. struggled on before deciding to sell its Waimai service to Alibaba Group Holding Ltd.'s Ele.me.
That didn't quite lead to a truce, but the fire seemed a little less wild.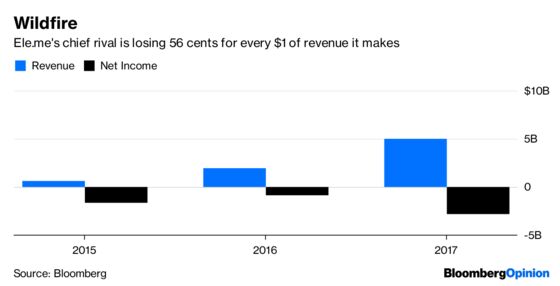 Now Son is back in China, leading a $3 billion-plus round of funding into Ele.me just in time to be a thorn in Meituan Dianping's planned Hong Kong listing. Assuming Ele.me's financials look anything like Meituan's, the startup needs the money. Meituan is burning cash at an increasingly rapid rate – it posted net loss margins last year of 56 percent.
Which means that Son, and his SoftBank Vision Fund, will prove to be either halon or kerosene. His decision to get involved could quickly quell the cash-burning fires, or merely add more fuel to the inferno.
To contact the editor responsible for this story: Matthew Brooker at mbrooker1@bloomberg.net
This column does not necessarily reflect the opinion of the editorial board or Bloomberg LP and its owners.
Tim Culpan is a Bloomberg Opinion columnist covering technology. He previously covered technology for Bloomberg News.
View
Opinions
From Business And Policy Experts On BQ Prime