(Bloomberg Opinion) -- One of Britain's biggest private pension plans, the Universities Superannuation Scheme, has a whacking great deficit — anywhere between 7.5 billion pounds ($9.9 billion) and 17.5 billion pounds, depending on how you measure it.
Help is at hand, though. On Monday, the British parliament voted to approve the construction of a third runway at London's overcrowded Heathrow airport, which is co-owned by USS.
I've written before about why spending 14 billion pounds ($18.5 billion) to tarmac over an already congested and noise-polluted area west of London is a bad idea. Gatwick would have been better and cheaper. How much Heathrow's expansion will end up costing is anyone's guess, and the government doesn't seem to care much. Its National Policy Statement barely touched on the expense. In view of previous delays, the completion date of 2026 probably isn't a serious target either.
The only near certainty is that Heathrow's owners — all non-British apart from USS — will do very nicely. Willy Walsh, the boss of British Airways owner IAG SA, is right to fear that the cost of any budget overruns will fall on airlines and their customers.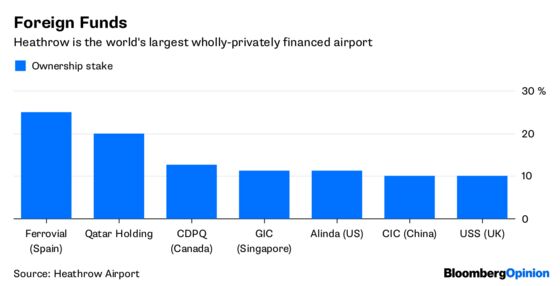 ​There are two big reasons why owners Ferrovial SA of Spain, Qatar Holding LLC and others are sitting pretty. First, expanding Heathrow will reinforce its position as Britain's only big hub airport with a near-monopoly on long-haul flights and comparatively high landing charges. Second, Heathrow's owners are more or less guaranteed a decent return no matter how much they spend.
U.K. regulators let infrastructure owners make a specified return on their investments, over and above capital spending, operating expenses and the cost of capital. So the most important number for owners is the size of their so-called "regulated asset base." The larger it is, the more money they make. Heathrow's is already big, and it's about to get bigger.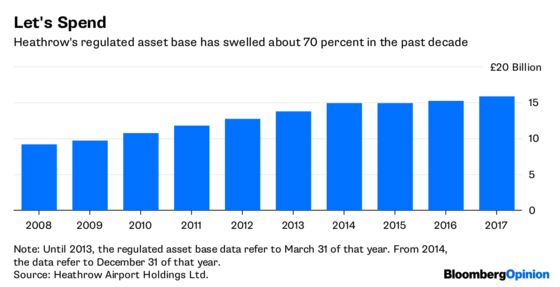 The approach has some benefits. Heathrow's gleaming Terminal 2 and Terminal 5 buildings are a big improvement on the airport's bad old days. But the downside is that infrastructure operators have an incentive to game the regulatory system and overspend. A 2017 report on behalf of the Civil Aviation Authority said Heathrow wanted to spend an estimated 1 million pounds on a smoking shelter.
With little competition and such a favorable regulatory setup, Heathrow is also very profitable. Its Ebitda margins exceed 60 percent.
In fairness, the operators have boosted passenger numbers, cut operating costs and extracted more revenue from car parking and retail concessions. Still, all of this means Heathrow has been able to pay very handsome dividends to the owners — almost 2 billion pounds in the past six years, by my calculation.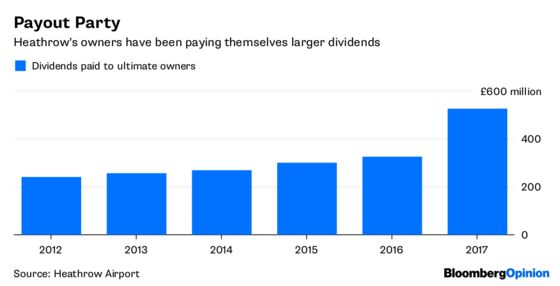 It does so while paying remarkably little corporation tax for an asset of its size. Cash taxes were about 53 million pounds last year. That's partly because it's been investing heavily, but Heathrow's taxable profit is also pretty low because of the interest it pays on a massive debt pile. Heathrow Airport Holdings Ltd had net debt of about 14.2 billion pounds in December, according to Bloomberg data. Gearing — net debt as a percentage of the regulated asset base — is about 87 percent. That's pretty aggressive.
With the go-ahead for a third runway, that debt will swell further, which is worrying given the risk of budget overruns and Heathrow's critical importance to the British economy.
True, Heathrow is backed by deep-pocketed owners who are going to have to inject more equity into the project. The balance sheet shows only about 700 million pounds of shareholder funds at present. 
But Heathrow's recent history suggests that its owners are more preoccupied by their dividends than footing the bill for any unnecessary spending, so the airport's users should watch out. The MPs who voted overwhelmingly for a third runway shouldn't be so indifferent to the cost.
To contact the editor responsible for this story: James Boxell at jboxell@bloomberg.net
View
Opinions
From Business And Policy Experts On BQ Prime