What Do Hedge Funds and Generation Z Have in Common?
(Bloomberg Opinion) -- Not known for their patience, hedge funds are seeking to make a quick buck from an equally restless Generation Z.
Bilibili Inc., the owner of China's most popular website for streaming animation videos and mobile games, has attracted the likes of Tiger Global Management, Point72 Asset Management and Hillhouse Capital Management, Jeran Wittenstein of Bloomberg News reported.
Shanghai-based Bilibili has around 72 million monthly active users, 82 percent of which are classified as Generation Z, or people aged nine to 28. Word of mouth has meant Bilibili's user base is growing about as fast as Weibo Corp.'s did in the early years.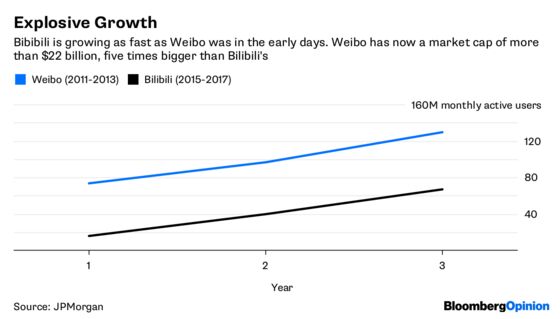 But the comparison stops there, because unlike Weibo, Bilibili hasn't quite figured out how to make money.
Last year, the company generated 60 percent of its $379 million in sales from just one game: Fate/Grand Order, a role-playing import from Japan for which Bilibili has the exclusive rights in China.
Bilibili has grander ambitions, though, telling Barron's earlier this year that it's "not just a game company."
Its income statement says otherwise. Unlike Baidu Inc.'s online streaming service, iQiyi Inc., in which Hillhouse Capital also owns a stake, Bilibili generated only 6.5 percent of its sales from advertising. While iQiyi, which went public at around the same time, is trading at 3.9 times expected 2018 revenue, Bilibili is on a multiple of 5.6.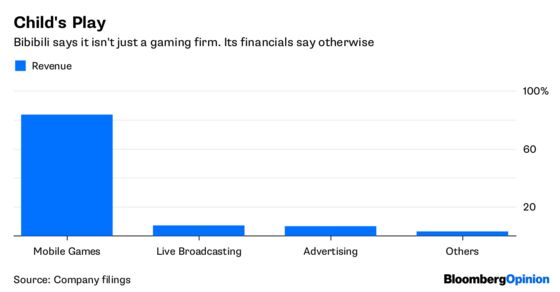 Perhaps Tencent Holdings Ltd. will be Bilibili's white knight. It already has a 4 percent interest, and has been quickening the pace of acquisitions, outlaying $14 billion since January versus $23.7 billion for all of 2017, Bloomberg data show.
Tencent has built a formidable portfolio in video streaming. Its Tencent Video service competes directly with iQiyi, while it has an option to increase its voting rights as of March 2020 in e-sports streaming outfit Huya Inc. to 50.1 percent. Tencent is also a backer of Kuaishou, which showcases sub-one minute videos from users and is seeking a $17 billion valuation.
Bilibili does have a unique user base that may be hard to replicate. While some of its customers also watch Tencent Video, when it comes to short clips like those on Kuaishou and Douyin, there's hardly any overlap.
So as an acquisition target, Bilibili becomes a question of how much each user is worth. Based on its market value, Bilibili comes in at about $50 per user, compared with Weibo at $58 per user and Momo Inc. at $82.
But unless Bilibili can keep growing its base and maintain its edge, hedge funds will lose interest. Any big takeover premium could evaporate as quickly as Generation Z's attention span.
To contact the editor responsible for this story: Katrina Nicholas at knicholas2@bloomberg.net
View
Opinions
From Business And Policy Experts On BQ Prime