Pandemic Year Sees Uruguay Crowned Emerging-Market Bond King
Pandemic Year Sees Uruguay Crowned Emerging-Market Bond King
(Bloomberg) -- Uruguay's dollar bonds have outperformed all their emerging-market peers this year as the small nation, sandwiched between the Covid-19 hotspots of Argentina and Brazil, gives its neighbors a masterclass on how to deal with the pandemic.
Uruguay's bonds have returned 14.8%, more than double that in China and Russia, according to the Bloomberg Barclays Emerging Markets Hard Currency Index.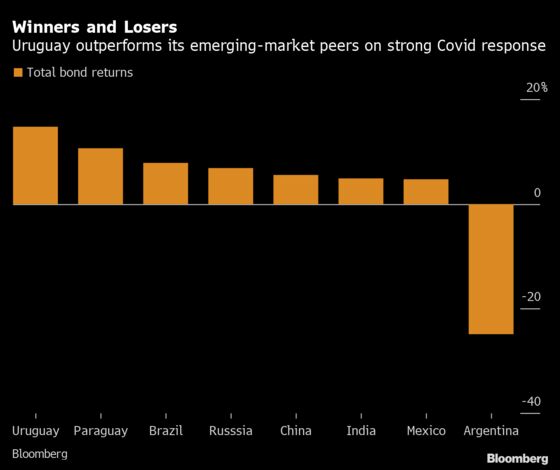 The South American nation of 3.5 million has kept deaths per capita from Covid-19 at less than 10% of its regional neighbors. What's more, it has done that at less economic cost than almost any other country in the region. Neither is President Luis Lacalle Pou's administration letting down its guard, deciding to keep its borders closed to the yearly influx of tourists to resorts such as Punta del Este in the next few months.
"Uruguay has had to make some hard choices, like keeping its borders closed," said Eamon Aghdasi, an emerging-market debt analyst at GMO in Boston, which holds $7 billion in developing-nation bonds, including Uruguay's. "It's a country that looks to investors like it has the capability to deal with shocks and solve fiscal problems."
The average yield on Uruguayan bonds as measured by JPMorgan indices hit a record low on July 31 of 2.61%.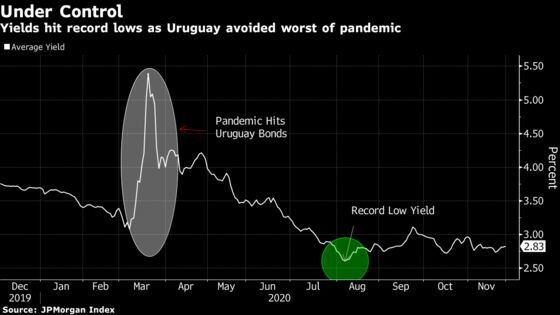 Uruguay's gross domestic product contracted 10.6% in the second quarter from the year earlier, compared with 19.1% in Argentina, 18.7% in Mexico and a whopping 30.2% in Peru. Only Brazil came close to Uruguay's performance, with a drop of 11.4%.
Herman Kamil, who runs the Finance Ministry's debt management unit, attributed bond performance to Uruguay's high ranking in ESG indicators and a pandemic strategy that has kept the economy open and deaths low, among other factors.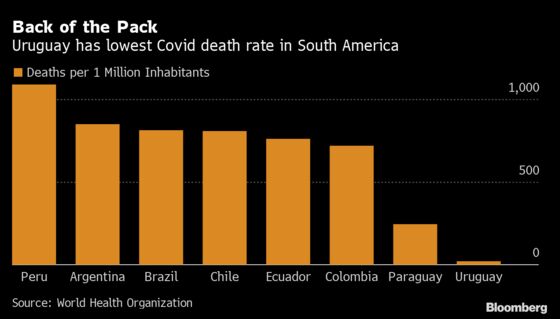 President Lacalle Pou's five-year budget has also helped. The plan seeks to cut unsustainable pre-pandemic deficits that credit rating companies have flagged as a risk to the nation's investment grade status.
Still, in a sign that Covid is far from beaten, the number of active cases almost tripled last month to 1,423 on Nov. 30 as social distancing fatigue sets in. The government announced restrictions Tuesday including suspending indoor sports and limiting hours for bars and restaurants from Dec. 2 to Dec. 18.
Moreover, economists surveyed by the central bank have trimmed their growth outlook for 2021 three consecutive months to 3.35%, while penciling in a deeper recession this year of almost 4.3%. The government is also grappling with the highest inflation rate of any other investment grade country in the world at 9.7%, though the central bank expects inflation to dip below 7% next year.
The prices of Uruguay's dollar bonds maturing beyond 10 years have room to rise next year if a successful Covid-19 vaccine boosts the economy, while the short-term part of the yield curve is trading at "fair value," said Marcelo Manteiga, who manages $700 million at Montevideo-based brokerage house Gletir.
"I think next year in general is going to be a good year for emerging market issuers especially for the more solid ones like Uruguay and Chile," he said.