Warm Winter Has Leaves in the Southeast Popping Out Way Early
Warm Winter Has Leaves in the Southeast Popping Out Way Early
(Bloomberg) -- It may be freezing today in New York, but mild winter temperatures across the U.S. over the last couple of weeks have leaves bursting out as much as three weeks early from Texas to North Carolina.
Leaves appeared 22 days ahead of the 30-year average in Wilmington, North Carolina, 17 days ahead in Charleston, South Carolina, and 10 days early in Austin, Texas, according to the U.S. National Phenology Network, which uses a national observer network to track changes in lilacs and honeysuckles, normally the first to show leaves in the spring.
While the phenomenon may foreshadow an early spring, it also has its bad side. Frosts and freezes ahead can kill off flowering buds. And if the warmth continues to spread north, it can wake up apple, cherry and peach trees early, limit maple syrup sap harvests and bring on an early start to allergy season.
"A lot of people are taking note, saying this isn't normal," said Theresa Crimmins, the Network's assistant director, who works at the University of Arizona. "I am not sure we will see the crazy early spring that we saw in 2017, but it is starting out that way."
Also see: Natural gas dives on 'blowtorch warmth' in dead of winter
In 2017, record-warm temperatures were recorded in 15 states in February. The warm start caused plants to burst out across the U.S. only to get trapped by cold in March that froze off cherry blossoms in Washington, and peaches in Georgia and South Carolina. Blueberry crops were ruined and winter wheat broke its dormancy in some places as much as six weeks early.
The phenology network gets most of its funding from the U.S. Geological Survey and Crimmins and her colleagues work for the University of Arizona.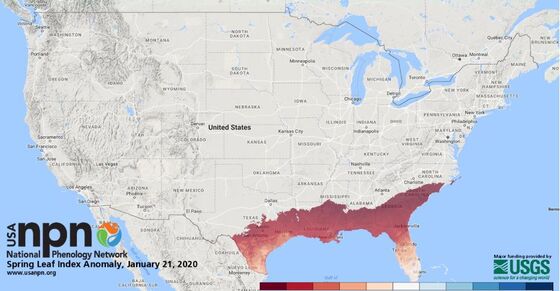 To contact the reporter on this story: Brian K. Sullivan in Boston at bsullivan10@bloomberg.net
To contact the editors responsible for this story: Tina Davis at tinadavis@bloomberg.net, Reg Gale, Christine Buurma