War Forces Europe to Keep Long-Term Gas Deals It Once Resisted
(Bloomberg) -- Europe is finding it next to impossible to put an end to the decades-long natural gas supply contracts it has opposed for years.
The war in Ukraine is driving Europe's energy firms to sign long-term deals to secure alternatives to Russian gas. The continent needs such agreements to fill the gap of losing supplies from Russia, its biggest provider of the fuel.
It's a turnaround for European buyers, which have long fought to break free from the multi-decade contracts often tied to the price of oil and favored by Russia. While such deals ensure security of supply, they curb buyers' ability to benefit from low prices in the short-term, or spot, market.
But as Europe seeks other sources to Russia's gas, it's finding that alternative suppliers want long-term commitments, too. That's especially apparent in the market for liquefied natural gas, which is expected to be one of the main pillars in Europe's efforts to cut dependence on Russian gas.
French utility Engie SA on Monday agreed to buy LNG from NextDecade Corp.'s proposed export terminal in Texas for 15 years. Meanwhile, Germany is rapidly setting up LNG import terminals, for which it may have to ditch its opposition to long-term contracts in order to secure steady supplies.
LNG plant developers still largely need years-long deals with customers to finance multi-billion-dollar production plants. LNG cargoes are sent to markets that offer the highest premium, and if European utilities want to guarantee volumes no matter what, they will have to consider long-term deals, Xi Nan, Rystad Energy's vice president for gas and power markets, said at the Flame conference, the gas industry's annual gathering in Amsterdam.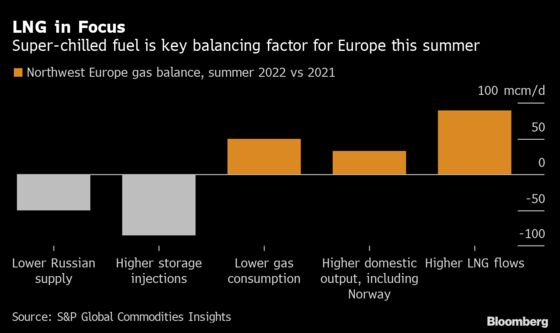 European gas prices have been commanding a premium over Asian markets since the start of the year, a pattern that may remain for at least a year.   
"Europe is no longer the market of last resort, it's the market of most need," said Andrew Walker, a vice president at Cheniere Energy Inc. "Europe is still the balancing market, it's just the balance has shifted where it's pulling strongly."
Read more: High Natgas Prices Will Continue to Destroy Demand: RWE's Moret
As Europe seeks to diversify, today's price signals mean most existing and new capacity that will come online will be targeting Europe, at least in the short term, panelists at Flame said. Yet, only limited supply will start over the next few years before more capacity is scheduled to come online in the second half of the decade. 
"The long-term contracts remain as a tool, as an instrument to bring some stability and some security to the market," Svetlana Ikonnikova, research scientist at the Center for Energy Economics at the University of Texas at Austin, said at the conference.
With assistance from Bloomberg