Wanted: Libor Replacement for Europe's $1.1 Trillion Loan Market
Europe's high-grade loan market has just two years left to resolve an about 1 trillion-euro ($1.1 trillion) question: how to replace Libor.
The industry is struggling to find alternatives to scandal-plagued Libor because new reference rates, such as Sonia and ESTR, don't match market requirements. Still, replacements are needed because Libor benchmarks -- a key foundation for loan borrowing costs -- will be abolished at the end of 2021. Success in devising new gauges may also prevent a second annual decline in market activity.
"Libor transition is clearly the key topic," said Laurent Vignon, head of EMEA loan syndicate at Societe Generale SA. Clarification could "fuel volumes" because borrowers changing deal benchmarks will probably extend maturities as well, he said.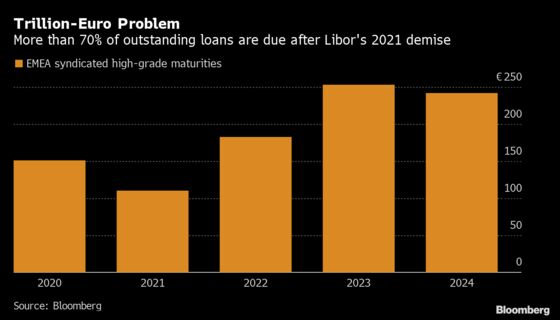 The loan industry needs a fillip because an economic slowdown, Brexit and trade tensions are denting corporate investments and acquisitions. Almost 75% of participants in a Loan Market Association survey expect Europe, Middle East and Africa volumes to be flat or down in 2020. Volumes this year are almost 30% below 2018's total at 305 billion euros, according to data compiled by Bloomberg.
Economic and geopolitical concerns "have weighed on investment activity and therefore subdued the demand for debt products," said Reinhard Haas, global head of syndicated and leveraged finance at Commerzbank AG.
The key challenge in replacing Libor is that new central-bank benchmarks only track backward-looking overnight lending rates, whereas loans traditionally use forward-looking rates covering three or six months. It isn't clear whether new forward-looking term rates will ever be available, according to Kam Mahil, LMA's legal director.
One possible solution is to create backward-looking term rates by compounding the new overnight benchmarks, she said. Still, this presents a host of issues including the lack of an official gauge, the need for agreement on key conventions, and requirements for potentially time-consuming system changes, she said.
Switching loans to overnight benchmarks instead of term rates is also difficult, not least because margins would probably have to be changed due to overnight rates pricing in lower credit risks, according to a note from law firm Debevoise & Plimpton.
READ MORE: Loan-Market Pessimism Grows as Economy Adds to Brexit Woes
Easing the transition is the fact that Euribor, the main benchmark for euro loans, will survive past 2021. Still, euro deals with multi-currency facilities will have to be changed to reflect the discontinuation of other benchmarks. The long-term fate of Euribor is also debatable, even after methodological changes, given the wider shift toward risk-free rates, such as ESTR, according to law firm White & Case.
There has been some progress in making the switch from Libor in bilateral loans, with transport operator National Express Group Plc and South West Water Finance Plc both getting pound deals tied to Sonia. Work is also under way on compounding methodologies and the LMA has published draft documentation, according to the trade group.
Still, 67% of respondents in the LMA survey said they were concerned or very concerned about the Libor transition, compared with just 57% citing similar anxieties regarding Brexit.
As the LMA concluded: "there is still much work to do in a short amount of time."
To contact the reporter on this story: Jacqueline Poh in London at jpoh39@bloomberg.net
To contact the editors responsible for this story: Hannah Benjamin at hbenjamin1@bloomberg.net, Neil Denslow, Maciej Onoszko