Virtual-Reality World Turns Digital Currency Into Cold Cash
(Bloomberg) -- One of the more unusual projects funded during the height of the cryptocurrency boom is making its debut as an unlikely financial success for many of its participants.
Decentraland, a virtual-reality world owned by its users where people are already spending real money to buy plots of land and other property, went live Thursday. The project raised more than $20 million in a matter of moments during its initial coin offering in 2017.
Many of the coin holders are now looking to turn a profit by trading goods and services in the virtual community's cryptocurrency, known as Mana. The token has more than doubled this year, though it's still down from its 2018 high. Virtual land is also flying off the shelves, with about $1 million in plots sold in the past 10 days, according to data tracker NonFungible. That makes the project's virtual property by far the most traded asset on the Ethereum blockchain.
"We believe it's inevitable that people will spend a significant amount of time in virtual worlds," said Mark Murphy, chief operating officer of Digital Currency Group, an investor in Decentraland and Mana.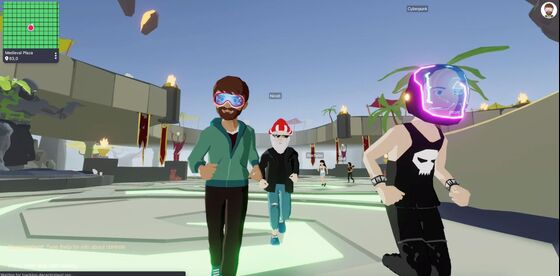 The project is already trading more than 10 times more virtual property, for example, than CryptoKitties -- the famous collectible virtual cats that can breed, and which nearly brought Ethereum's network to a screeching halt months ago.
Decentraland is operated by a newly created decentralized autonomous organization -- effectively, software that sits on the Ethereum digital ledger. The software holds funds to pay coders to develop the virtual world and owns public lands such as plazas and roads. And because it's just software that sits on a distributed network of servers, it can't be easily shut down or censored by governments.
"The users are in control of the digital assets, which is something that hasn't happened before," Ari Meilich, project lead for Decentraland, said in a phone interview. "We think that over time players will gravitate toward games where they are more in control."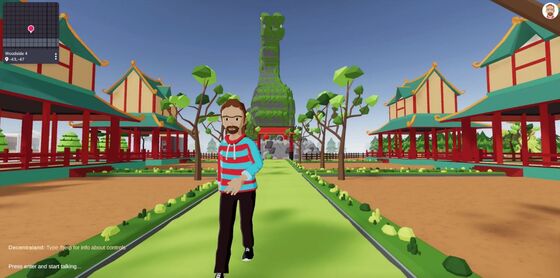 In the works for more than two years, the virtual world is being launched at a time when many of the so-called alt coins -- smaller cryptocurrencies that compete with Bitcoin -- are rallying amid a revival of the largest digital asset. Many alt coins plunged in value when the crypto bubble burst in 2018, with tokens from numerous projects failing to survive.
Decentraland has used about half of the ICO proceeds to pay more than 30 developers who have worked to build it out, Meilich said. Today, thousands of other people, including several dozen creative studios, are creating content for the virtual world, more than a third of which is built out.
"We're seeing that land close to our content is already increasing it's value, so there is a lot of people asking us to build on their place recently," said A. Daniel Garcia, chief executive of Polygonal Mind, a creative development studio working with Decentraland land's owners to build arcade games, art galleries, shops and transportation systems.
The community enters a crowded marketplace. Other digital ledger-based virtual worlds, like the Sandbox and Cryptovoxels, are ramping up. Virtual world Second Life is alive and well, and much more developed. And gamers are happily socializing and buying and selling virtual items within games like Minecraft and Roblox, and it's yet to be proven that they care about ownership and censorship enough to jump ship.
Unlike many other virtual worlds, Decentraland doesn't require a software download; it can simply be accessed through a browser. The community hopes to have several hundred thousand users within a year, Meilich said. Second Life, which launched in 2003, has about 750,000 users.
"You also have a lot of Gen Z/Millennials who spend more time these days on Twitch, YouTube, Mixer, etc.," said Yoshio Osaki, chief executive officer at gaming researcher IDG Consulting. "The only major difference I see for Decentraland versus Second Life is the blockchain aspect, which could be very interesting going forward if this ecosystem gains traction."
To contact the reporter on this story: Olga Kharif in Portland at okharif@bloomberg.net
To contact the editors responsible for this story: Jeremy Herron at jherron8@bloomberg.net, Dave Liedtka, Randall Jensen