Vietnam Airlines to Disinfect All Aircraft Arriving from Abroad
Vietnam Airlines to Disinfect All Aircraft Arriving from Abroad
(Bloomberg) -- Vietnam Airlines is disinfecting all of its aircraft that arrive from abroad and checking the temperatures of passengers boarding in Europe after an outbreak of 14 novel coronavirus cases tied to its March 2 London to Hanoi flight.
The planes will be disinfected soon after landing in Vietnam, the national carrier said in an emailed statement.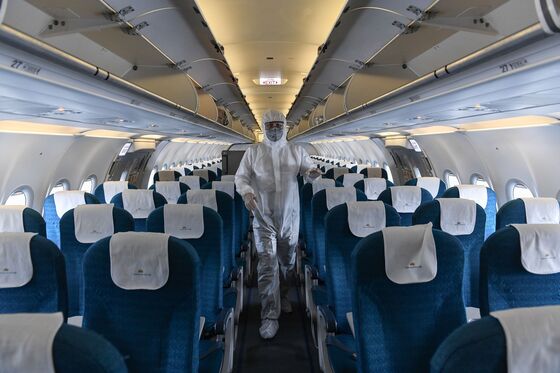 The airline will distribute masks to passengers boarding in Europe, encourage travelers to wear them the entire flight and ask passengers to limit getting out of their seats, it said.
The carrier will also conduct limited disinfections on planes after each domestic flight, the carrier said.
To contact the reporter on this story: Nguyen Dieu Tu Uyen in Hanoi at uyen1@bloomberg.net
To contact the editor responsible for this story: John Boudreau at jboudreau3@bloomberg.net