Vatican Starts Corruption Trial With Cardinal Among Defendants
Vatican Starts Corruption Trial With Cardinal Among Defendants
(Bloomberg) -- The Vatican started a corruption trial with alleged offenders including a previously powerful cardinal as Pope Francis ramps up a campaign to overhaul the city state's scandal-plagued finances.
Cardinal Angelo Becciu, who served as chief of staff in the Vatican's secretariat of state, is the highest-placed Vatican figure to face a trial for alleged financial crimes. At the trial that started on Tuesday, the 73-year-old Becciu and two former leaders of the Vatican's financial watchdog are among the 10 defendants who are accused of offenses including fraud, embezzlement, abuse of office, money-laundering and corruption.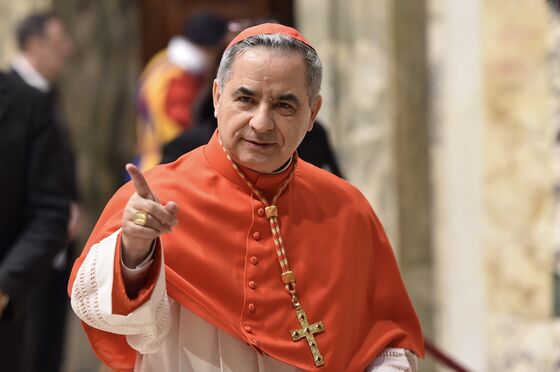 Pope Francis, who once called money "the devil's dung," has made the clean-up of the Catholic church's finances a pillar of his papacy. To drive his campaign home, Francis last year requested and accepted Becciu's resignation after the cardinal was linked to a controversial London property deal. In the 2014 transaction the Vatican's Secretariat of State -- equivalent to the prime minister's office -- invested in a former Harrods warehouse in the affluent Chelsea neighborhood that was slated to become luxury apartments.
Francis dismissed five Vatican employees over the London deal, which went south, and an investigation was launched to determine whether the bureaucrats were scammed or if they themselves profited.
After Tuesday's first hearing, Becciu awaits the continuation of the trial and expects that "numerous pieces of evidence and witnesses will indicate his innocence with respect to every accusation," according to a statement by his lawyer, Fabio Viglione, cited by the Ansa news service.
"I believe this trial marks a turning point, which can lead to greater credibility for the Holy See on economic matters," Father Juan Antonio Guerrero Alves, the Vatican's economy minister, told the official Vatican News website on Saturday. "The fact that this trial takes place means that certain internal checks work: the accusations came from inside the Vatican."
Defendants in the trial include financial brokers, Vatican officials and a lawyer, according to a Vatican statement.
The Vatican's losses in the London deal amount to as much as 150 million pounds ($208 million), Archbishop Nunzio Galantino, who heads the Administration of the Patrimony of the Holy See which manages real estate holdings, told the Catholic newspaper Avvenire last year.