UniCredit Plans 3,000 Fresh Job Cuts as CEO Orcel Pivots to Growth
(Bloomberg) -- UniCredit SpA is planning about 3,000 fresh job cuts as Chief Executive Officer Andrea Orcel seeks to focus on profitable businesses and returns as part of the Italian lender's new strategic plan.
The bank is targeting reductions mostly at its corporate center where it's seeking to reduce bureaucracy and duplication, people with knowledge of the matter said. Final numbers are still being reviewed, the people said, asking not to be identified as the plan isn't public. The cuts will come in Italy and overseas.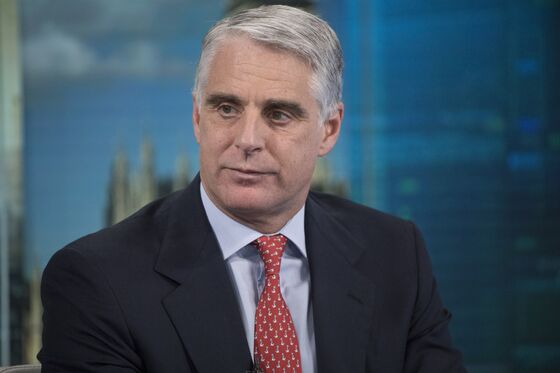 Orcel is seeking to pivot to growth and move away from an era of restructuring as part of a strategy update to be announced next week. Since taking over in mid-April, the former UBS Group AG investment banker has reorganized regional businesses and reshuffled top executives to reduce complexity. He also walked away from a deal to buy Banca Monte dei Paschi di Siena SpA after six months of talks with the government because conditions for the rescue of the troubled lender weren't met.
A spokesman for UniCredit declined to comment.
The fresh round of cuts adds to about 3,900 job reductions that still need to be implemented from the bank's previous strategic plan, which were already agreed with unions and employees and on which the bank has already taken a charge. UniCredit, which operates in 13 European countries, had headcount of about 87,000 as of the end of September. 
Unicredit rose as much as 4.3% in Milan trading and was up 4% as of 5p.m., giving the bank a market value of 24.8 billion euros ($28.1 billion.)
"If it proved to be true it would be positive for UniCredit, as it would make its cost to income ratio, currently at 54.2%, in line with European peers," said Stefano Girola, a portfolio manager at Alicanto Capital SGR. 
In Italy, redundancies will be on a voluntary basis and eased by generous early-retirement and social support policies, the people said, adding that some new hiring is also planned. Several hundred positions at the bank's international hubs from New York to Tokyo will form part of the cuts, they said. The bank is moving deposit-taking and lending activity from representative offices to core countries in Europe.
As part of its plans, UniCredit is also seeking to centralize its trading activities in Milan, while Treasury activities will be split between the Italian finance capital and Munich. UniCredit is also reducing staff in the U.K. and moving most of its London-based trading staff to Milan, Bloomberg reported in October.
Orcel has signaled that the core of the strategy review is to generate higher sustainable returns. The CEO is set to increase the bank's current dividend policy and focus on more lucrative products and capital-light businesses, the people said. He's also seeking to reduce the number of accords with its partners to distribute insurance products and is working to reduce risk, they said. 
UniCredit has five different partnerships in place in Italy, which expire in the next few years. In the life segment, the Milan-based lender has an accord with Allianz SE and two other separate partnerships with CNP Assurance. In the non-life business, the bank has distribution accords with Allianz and Unipol Gruppo SpA.
The bank is also in talks with French firm CNP to combine life-insurance join ventures, according to the people. It is also seeking to reduce counterparts in the non life business by renegotiating a deal with Unipol, they said.
Orcel is seeking to improve the terms of a five-year-old deal with Amundi SA to distribute asset management products, stemming from the purchase by the French asset manager of UniCredit's Pioneer Global Asset Management unit that's due to run until 2026, Bloomberg reported in September. 
The lender posted higher-than-expected third-quarter profit aided by lower provisions for bad loans and rising earnings from fees and commissions.