U.S. Regulators Tell Mnuchin Nothing Is Out of Ordinary in Markets
(Bloomberg) -- Treasury Secretary Steven Mnuchin failed to assuage investors' rising anxiety with a hastily called meeting of top financial regulators Monday as U.S. stocks plummeted to a 20-month low.
Leaders of U.S. financial agencies told Mnuchin that markets are functioning normally, according to a person with knowledge of the discussion, despite a recent stock slump that many traders blame on turmoil emanating from the Trump administration.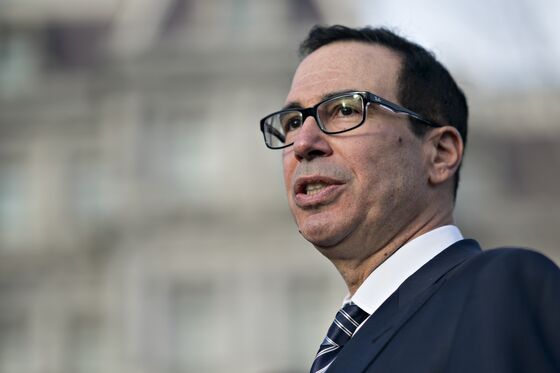 Mnuchin spoke with the watchdogs by conference call Monday morning after Bloomberg News reported late Friday that President Donald Trump had discussed firing Federal Reserve Chairman Jerome Powell out of frustration with months of losses in equity markets.
Mnuchin didn't clear with Trump his decision to convene the meeting of financial regulators before the Treasury secretary announced it Sunday, according to another person with knowledge of the matter. Nor did he consult the president on a separate decision to ask the nation's biggest banks about their ability to lend to consumers and other financial companies, another person said.
Rather than easing nerves, both moves added to a sense of alarm among investors who were already rattled by the report the president had considered dismissing Powell. And then Trump exacerbated concerns with a Monday tweet renewing his attack on the Fed, blasting the central bank as the U.S. economy's "only problem."
All the turbulence contributed to the Standard & Poor's 500 Index closing down 2.7 percent, hitting its lowest level since April 2017.
Joining Mnuchin on Monday's call were officials from the Fed, the Securities and Exchange Commission, the Commodity Futures Trading Commission, the Federal Deposit Insurance Corp. and the Office of the Comptroller of the Currency.
The regulators briefed the Treasury secretary on how they would monitor markets during the shutdown, as the SEC and CFTC will be dealing with curtailed operations, said the person, who asked not be be named because they weren't authorized to speak publicly.
Spokesmen for the SEC, CFTC and FDIC didn't immediately respond to requests for comment. Treasury, Fed and OCC representatives declined to comment.
The call with the group, known as the President's Working Group on financial markets, was aimed at reassuring investors after a tumultuous week in Washington that included a partial government shutdown, the abrupt resignation of Defense Secretary Jim Mattis and the weekend report that Powell was the focus of Trump's ire.
Mnuchin announced the President's Working Group call in a Sunday afternoon tweet, in which he also revealed that he had reached out to the chief executive officers of the U.S.'s six largest banks to inquire about market conditions. Mnuchin said the bankers "confirmed they have ample liquidity available for lending to consumer, business markets, and all other market operations."
The phone calls raised some eyebrows, with traders questioning why Mnuchin was bringing up bank liquidity when no one had expressed concerns about the issue. Holding what seemed like an emergency discussion with financial regulators one day before markets close for the Christmas holiday also risked triggering anxieties, just as much as mitigating them.
"I don't know anybody who thought before last night that banks were suffering from lack of liquidity," Cornerstone Macro researchers including Roberto Perli said in a note to clients on Monday. Mnuchin's statements "evoke concepts that were used in the past at times of deep crisis," they added.
The President's Working Group on financial markets, a panel created in the aftermath of the 1987 market crash, doesn't meet regularly. Much of its duties have been eclipsed by the Financial Stability Oversight Council, a watchdog created after the 2008 financial crisis that Mnuchin chairs.
Known as FSOC, the council's members include the Fed, SEC, CFTC and other agencies. It met just last week, and regulators didn't express particular concern over markets or bank liquidity.
Market regulators' job is further complicated by the government shutdown. Essential functions continue at the SEC and CFTC, but most employees at both agencies weren't allowed to report to work Monday as Congress and Trump continue to fight over funding for a wall he wants built along the U.S.-Mexico border.
--With assistance from Saleha Mohsin and Craig Torres.
To contact the reporters on this story: Ben Bain in Washington at bbain2@bloomberg.net;Andrew Mayeda in Washington at amayeda@bloomberg.net;Margaret Talev in Washington at mtalev@bloomberg.net
To contact the editors responsible for this story: Jesse Westbrook at jwestbrook1@bloomberg.net, Mike Dorning