Historic U.S. Gas Rally Sours in Single Day as Volatility Soars
(Bloomberg) -- U.S. natural gas markets haven't been this volatile since the polar vortex of February 2019. 
After gaining 14% in New York Wednesday and extending an historic start to the year, futures for February delivery plunged 12.1% Thursday for the biggest drop in nearly three years.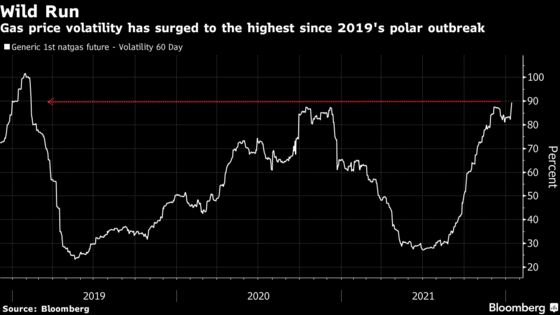 The once-insulated U.S. market is primed for big swings after a wild 2021 that saw benchmark gas futures climb almost 45% and American LNG shipments surge on the back of an energy crisis in Europe. This year is shaping up to be even more volatile, with gas futures posting the strongest start since their debut more than three decades ago only to take a dive a day later. 
Thursday's collapse came after overnight weather forecasts shifted warmer, signaling less gas may be needed for heating than previously expected. Still, the market should continue to see increased volatility over the next couple of weeks with unusually frigid weather expected in on the East Coast through the end of January. After that, conditions appear warmer.
"I think the market got a little ahead of itself," said Bob Yawger, head of the futures division at Mizuho Securities. "Who wants to go home for a three-day weekend with a big long position and all you are going to do all weekend is think about natural gas futures?"
Contributing to the plunge was a U.S. government report that showed gas inventories last week fell about as much expected. With the cold clinging a little longer, deeper withdrawals are expected in the coming weeks.