Married Men Are Earning Much More Than Others in America
America's Married Men Are Earning Much More Than Others
(Bloomberg) -- For men, the message is simple. If you want to get paid, get married. For women, unfortunately, working life still presents an seemingly inevitable loss of parity -- at least according to new data from the St. Louis Fed.
Married men far outpaced single men and single and married women in their wages and salary through their careers, according to the report. Unmarried men and women have very little difference in income, according to the analysis of all people employed in 2016 with at least a high school diploma. But for women, getting married does little to improve wages, the St. Louis Fed study found.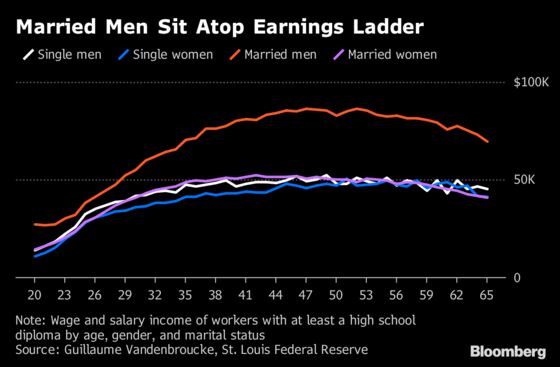 The data doesn't necessarily mean that being married increases a man's wages, according to the analysis by Guillaume Vandenbroucke, a research officer at the Fed. It may mean men earning higher wages are more likely to marry and lower-income men remain single, the Fed found. Also, married and single women make similar wages, which is "not consistent with the view that the gender wage gap results from women having children earlier in life and losing ground in human capital accumulation relative to men."
"The gender wage gap remains a complicated topic," Vandenbroucke wrote in the summary. "But progress may come from asking different questions: not just why women earn less than men (although not compared with single men), but also why married men earn so much more than everyone else."
To contact the reporter on this story: Jeff Green in Southfield, Michigan at jgreen16@bloomberg.net
To contact the editors responsible for this story: Janet Paskin at jpaskin@bloomberg.net, Alex Tanzi