U.S. Fears Inflation More Than Europe, With Recovery in Balance
(Bloomberg) -- Europe is far less concerned about inflation than the U.S., and that could create key divergences in how the global recovery plays out.
In Europe, and more specifically in Germany, inflation hasn't hit in the same way, thanks to exposure to China as its second-largest trading partner (and the impact of Covid there) and Germany's own case count and related restrictions.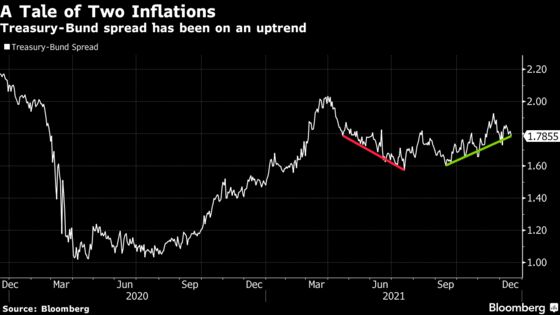 While inflation hasn't affected Europe that way it has the U.S., it's definitely there. The euro-area's December composite PMI fell to a 53.4 compared with a forecast of 54.4. German producer prices rose 18.3% year-over-year in November. Markets are showing it too, as 10-year German breakevens, which are used to price in inflation expectations, hover near levels last seen in 2013 when the European debt crisis intensified. Taken together, it indicates that growth is decelerating while inflation picks up.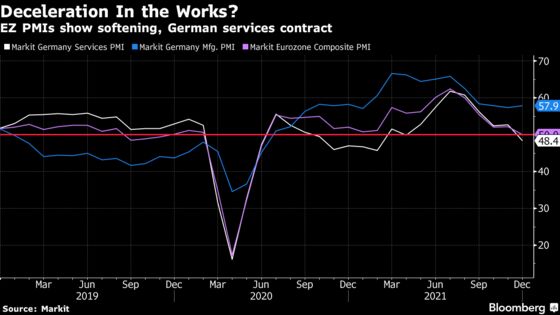 This scenario is creating a divergence in monetary policies used by the Federal Reserve and the European Central Bank. ECB President Christine Lagarde said it's unlikely the central bank will raise rates in 2022. And while it's ready to halt net purchases through the central bank's Pandemic Emergency Purchase Programme (PEPP) in March, it will increase purchases through an older asset purchase program. Meanwhile, in the U.S., Fed Chairman Powell just announced a faster pace of tapering accompanied with as many as three rate hikes in 2022 to combat inflation, pivoting the focus away from a labor market and participation rate that would take longer to recover.