U.S. Bets Furloughs Top Being Fired for 600,000 and Counting
U.S. Betting Furloughed Is Better Than Fired for 600,000 Workers
(Bloomberg) -- The wreckage appeared overwhelming the past few days as U.S. retailers furloughed hundreds of thousands of employees. The total might hit 1 million by week's end.
But given the reality on the ground, Heidi Shierholz, an economist for the left-leaning Economic Policy Institute, doesn't view the announcements from big chains like Macy's Inc. as bad news at all.
Instead, it shows that last week's $2 trillion stimulus package to combat the economic fallout from the coronavirus pandemic is working as designed by keeping workers attached to companies and receiving health benefits, she said. In terms of a paycheck, stimulus cash and unemployment benefits should help keep most afloat.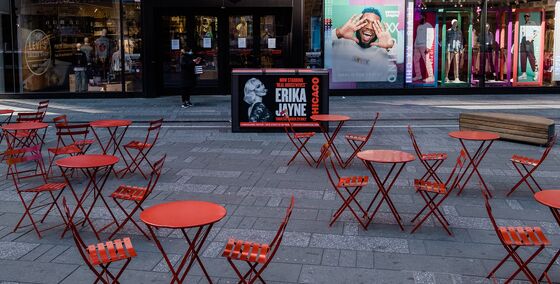 "I was very happy about the furloughs," said Shierholz, who has spent much of her career advocating for policies to help low- and middle-income families. "That's what we should be doing. It's one piece of bright news in this otherwise pretty grim labor situation."
Retailers began shuttering thousands of locations two weeks ago to slow the spread of the virus. Many kept paying employees until the end of March. As that deadline approached, and with the virus far from being contained, Congress and the administration realized the need for an alternative to avoid massive layoffs.
"If you lose your job in this crisis, you can be furloughed by your employer," Senate Minority Leader Chuck Schumer said of the stimulus last week on the Senate floor. "You stay on that employer's work list. If you have health benefits with the employer, you can keep getting them. But, and most importantly, the federal government will pay your salary -- your full salary -- for four months."
The list of companies opting for furloughs continues to grow and expand to other industries such as casinos, performance spaces and manufacturers.
While furloughed store associates do stop getting paid by the company, they maintain health benefits and can tap unemployment insurance that the stimulus made much more robust.
The law boosted the benefit by $600 per week for four months. That's the equivalent of working 40 hours a week at $15 an hour, which would fully replace the income of many employees. Already-existing unemployment benefits from states, which generally try to replace half a low-income worker's pay, mean that lots of front-line employees may end up earning more while on hiatus.
The alternative is for companies to dismiss employees. Workers could still collect the same unemployment benefits, but would have to pay for health-care coverage and deal with the stress of losing a job and trying to find a new one.
Meanwhile, employers would have to figure out how to hire and train new workers when they are able to reopen their stores after the virus fades. This would add lots of extra costs and time to re-starting the economy.
See Also: Racing to Zero: Social Distancing Crushes Retail, Hotels, Dining
"This is obviously a difficult position for both the businesses and employees to be in," said Brian Dodge, president of the Retail Industry Leaders Association, a trade group that counts major chains such as Gap Inc. as members. "However, the actions by government will preserve health benefits and ensure that workers can get back to work the moment the crisis passes."
Companies that furlough employees because their workplaces have been shut down due to the virus may also be able to receive reductions in payroll taxes for continuing to offer health benefits. A section of the law titled "employee retention credit" specifies that employers' providing group health coverage can qualify for a tax break.
Now, the challenge will be making sure that workers and employers know how to successfully navigate the new landscape.
"There should be a massive campaign to make sure businesses know that this is what they should do," Shierholz said. "There should be a PSA."