U.K. Inflation Wagers Hit Highest Since Before BOE Independence
The cost of hedging against inflation in the U.K. over the next decade rose to the highest level in 25 years as investors brace for price pressures in the economy to persist.
The so-called 10-year breakeven rate climbed as much as 11 basis points to 4.25%, the highest since 1996. That predates the Bank of England's independence in 1997, when central bankers were given sole discretion for setting interest rates to meet their inflation target.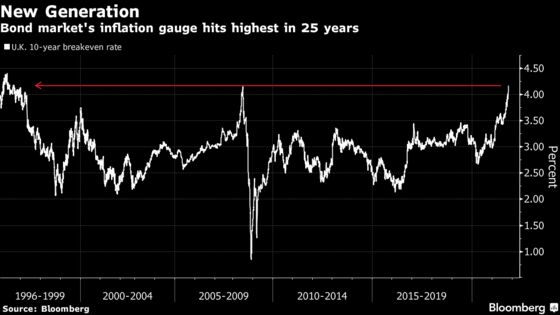 The move was spurred after BOE chief economist Huw Pill told the Financial Times that inflation may surpass 5% in the coming months -- a full percentage point more than the bank's forecast in September.  
The breakeven gauge has climbed over 120 basis points this year, set for the biggest annual increase since 2009. It is derived from the difference between conventional gilt yields and those linked to inflation, and serves as a rough proxy for its expected path.
The rate also reflects the premium that investors such as pension funds  -- with liabilities that span decades into the future -- are willing to pay to shield themselves against the prospect of higher inflation. 
The deteriorating inflation outlook has prompted markets to pull forward expectations for monetary tightening aggressively over the past month. Some investors expect the BOE will raise rates as early as November. 
Consumer prices rose 3.1% last month, holding near the fastest pace in more than nine years.  
It comes amid a challenging backdrop for much of the global economy, which is grappling with supply shortages and surging energy prices as the world emerges from the pandemic. 
A gauge of 10-year inflation expectations in Germany climbed toward 2%, a level last breached more than a decade ago, while the equivalent metric in the U.S. jumped to the highest since 2012 this week.
Five-year, five-year inflation swaps in the U.K. -- a measure of expected price increases over the second half of the next decade -- are set to close above 4% for the first time since 2009.
Payouts on inflation-linked gilts are currently tied to the Retail Price Index, rather than the Consumer Price Index targeted by the BOE. During the last 12 months, RPI inflation has averaged more than one percentage point above CPI.