U.K. House Prices Ease as Tax Cut Starts to Phase Out
U.K. house prices fell unexpectedly in July, signaling a loss of momentum in the property market after a tax break on purchases began to be phased out.
The average value of a home fell 0.5% to 244,229 pounds ($338,800), the first decline in four months, Nationwide Building Society said Wednesday. It followed an average gain of 1.6% between April and June. The annual pace of increase slowed to 10.5% from a 17-year high of 13.4%.
Economists surveyed by Bloomberg had expected a 0.3% gain in July.
The figures represent a return to more normal conditions after a frenzied year that saw the housing market defy the worst economic slump in more than 300 years. Demand was driven by the prospect of thousands of pounds of savings for purchases completed by June 30 and a pandemic-induced quest for homes with more space away from built-up urban areas.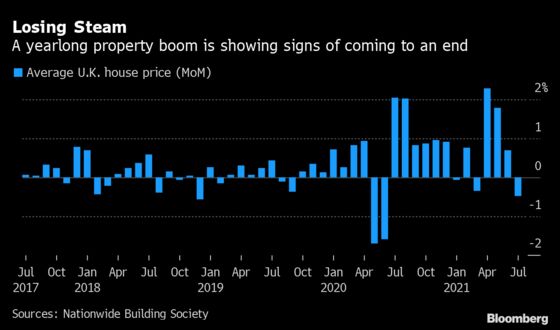 On July 1, the stamp-duty threshold was lowered by a half to 250,000 pounds, adding 12,500 pounds to the cost of buying a 500,000-pound home -- the average house price in London. From Oct. 1, the threshold will revert to 125,000 pounds.
Nationwide Chief Economist Robert Gardner said underlying demand is likely to remain "solid" in the near term, underpinned by strong consumer confidence, low borrowing costs and a continued shortage of homes for sale.
What Bloomberg Economics Says...

"One of the world's hottest housing markets seems to have peaked. The runaway growth in U.K. house prices slowed in July as the tapering of a government tax break on purchases took some of the froth out of the market. Still, the shift in behavior caused by the pandemic will mean demand for more spacious homes continues. That will keep activity simmering this year given the low level of supply

-- Niraj Shah, Bloomberg Economics. Click here for the REACT
While record property values threaten to entrench economic divisions in the U.K., Bank of England officials aren't worried that the boom is leading to an unsustainable buildup of debt. In their latest financial stability report, they said mortgage-to-income ratios had risen only marginally.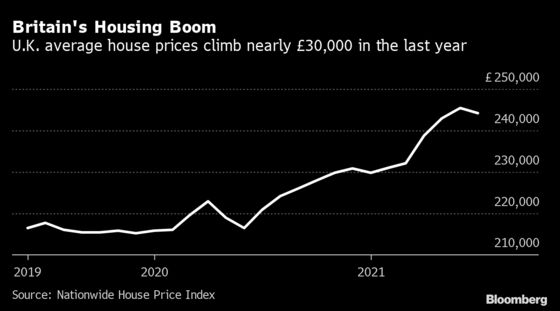 Gardner noted that the savings from the stamp-duty holiday have been dwarfed by the increase in house prices since the tax break was introduced in July last year. By the end of June, the price of a typical U.K. property had increased by around 24,500 pounds, compared with an average tax saving of 1,900 pounds.