U.K. Covid Cases Hit Record High as Omicron Outbreak Accelerates
(Bloomberg) -- The U.K. reported 78,610 new coronavirus cases on Wednesday, the most since the beginning of the pandemic, underlining the high transmissibility of the omicron variant.  
The previous record high of 68,053 came on Jan. 8, days after the U.K. entered a lockdown as it faced a wave of infections driven by the alpha variant.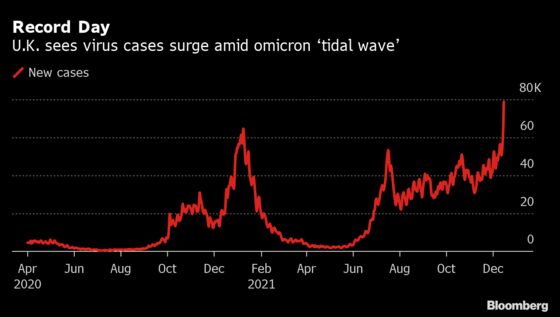 Omicron is "probably the most significant threat we've had since the start of the pandemic," U.K. Health Security Agency Chief Executive Officer Jenny Harries told the House of Commons Transport Committee on Wednesday. 
"The numbers that we see on data over the next few days will be quite staggering compared to the rate of growth that we've seen in cases for previous variants."
The sharp rise in cases is expected to lead to an increase in hospitalizations. It is not yet clear how much vaccines can counteract the variant, although early studies suggest that two doses plus a booster shot can offer as much as 75% protection against omicron.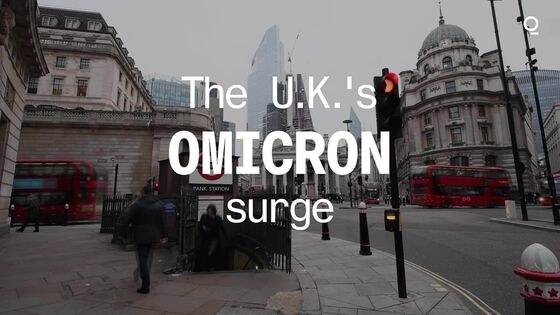 While positive test results are accelerating in the U.K., deaths are running at a much lower level than earlier in the pandemic. Scientists hope that a rapid booster rollout will help keep levels of severe disease low even as cases rise.
Currently, the number of deaths reported is just a fraction of the level seen earlier in the pandemic. While the record high for deaths within 28 days of a positive test result was 1,820, reported on Jan. 20, today's total was 165. 
U.K. officials say the confirmed number of positive test results is a significant under-estimate of the spread of omicron around the country. On Dec. 13 Health Secretary Sajid Javid said there were thought to be 200,000 infections each day, doubling roughly every two days.
The highly-mutated variant prompted Prime Minister Boris Johnson's government to recommend people in England should work from home and require masks in more areas. Those rules are aimed at buying time while more booster shots can be administered.