U.K. Assets Look Past Boris Johnson Turmoil With All Eyes on BOE
U.K. Assets Look Past Boris Johnson Turmoil With All Eyes on BOE
Pound traders are overlooking scandals at Downing Street as they focus on events a couple miles east at Threadneedle Street. 
Sterling traded close to its strongest in two years at 83.4 pence against the euro ahead of Boris Johnson's grilling at Prime Minister's Questions on Wednesday. Johnson is facing calls to resign over a "bring your own bottle" party at the height of a lockdown meant to stem the first wave of coronavirus infections in 2020. 
While assets such as the pound and gilts have regularly reacted to political developments in recent years, it's events at the Bank of England in the driving seat these days. Even the potential ousting of Johnson is unlikely to change that, with the outlook for monetary tightening key.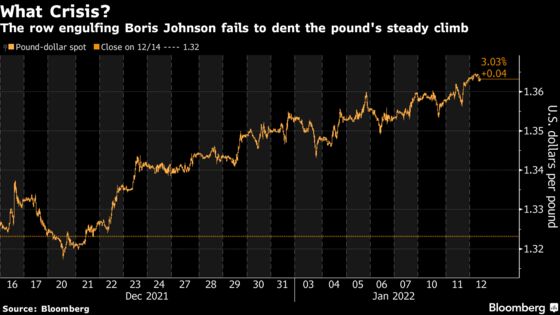 The BOE and global risk sentiment are "bigger factors to consider" than politics when it comes to sterling, said Jordan Rochester, a strategist at Nomura International Plc. "The leadership of the country mattered a lot to the outcome of Brexit, but with EU negotiations out of the way, it's less market relevant day to day." 
The pound has been buoyed this month by receding concerns over the omicron variant, the U.K. government's avoidance of strict restrictions and the BOE's December rate hike. Money markets have almost fully priced a further rise next month, with more than 100 basis points of cumulative tightening wagered for the end of the year. 
Sterling is this year's second-best-performing Group-of-10 currency, climbing 0.7% against the dollar, and there's little sign that political troubles will knock it off course. It barely moved after news unfolded about the alleged party, even as polls showed a majority of Britons thought Johnson should resign. It traded little changed at $1.3630 at 9:35 a.m. London time on Wednesday.