Typhoon Kills 6, Cuts Telco and Power Lines in Philippines
(Bloomberg) -- Typhoon Rai killed at least six people in the Philippines as it flooded villages and toppled power lines, authorities said Friday.
Five died in separate incidents of falling trees and debris, local government officials said. Another person was killed in a landslide in Surigao City, south of Manila. 
At least 330,000 were forced to flee their homes, as the typhoon slammed parts of the main central and southern islands. Philippine Airlines Inc., Cebu Air Inc. and other carriers canceled more than 200 flights. An IT Park in Cebu City was destroyed due to strong winds, according to a post on Twitter.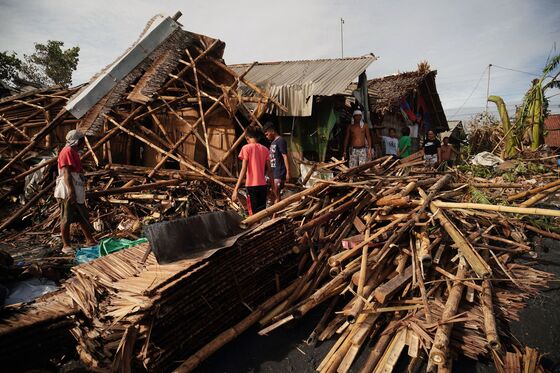 Rai, locally known as Odette, continued to wreak havoc even as it weakened from super typhoon category after hitting land. As of 2 p.m., it was in the vicinity of Palawan province, with sustained winds of 155 kilometers per hour near the center and gusts of up to 215 kilometers per hour, the weather bureau said. 
Work is suspended and offices are shut in most of the areas hit by the typhoon, the disaster risk reduction council said in a report. Mobile-phone signal in many areas has been cut off, making it challenging for the government to assess the extent of the typhoon's damage, said council executive director Ricardo Jalad. 
Heavy to torrential rains and destructive typhoon-force winds are expected over central regions, as the storm heads to the South China Sea. It's forecast to exit the Philippines on Saturday.
An average of 20 typhoons pass through the Philippines each year. Between 2000 and 2016, natural disasters cost the nation an average of $1.2 billion annually, according to an Asian Development Bank Institute paper.