Turkey Intervention Fails Again as Lira Sinks Toward 14 Mark
(Bloomberg) -- Turkish policy makers failed to arrest the lira's free fall with their third intervention this month as the currency quickly resumed losses amid an interest-rate policy seen as too loose by markets. 
The monetary authority said Friday it sold foreign exchange because of "unhealthy" price formations, echoing President Recep Tayyip Erdogan's words to describe the recent turbulence. While the lira rebounded briefly, it slid back closer to 14 per dollar, near levels that sparked all the three interventions.
The currency has weakened 38% since late September when the central bank cut borrowing costs, bowing to Erdogan's unorthodox belief that higher rates fuel inflation and must be avoided. Meanwhile, inflation climbed above 21% in November, reaching a three-year high. The deep negative real yields on the currency are spooking investors.
"FX interventions will not trigger a sustainable reversal in USDTRY with the upside bias firmly underpinned by real interest rates deep in the negative territory," said Piotr Matys, an analyst at InTouch Capital Markets Ltd.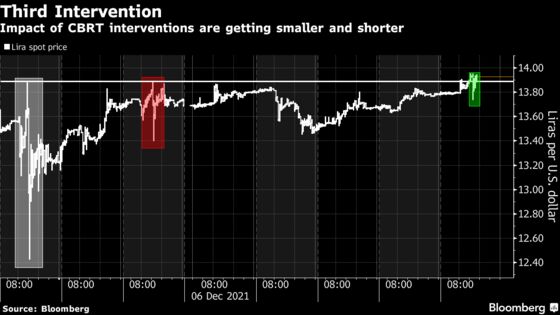 The central bank has lowered the benchmark rate by 400 basis points this year, taking it to 15%. Policy makers will meet on Dec. 16, where markets expect they will reduce the rate again to 14%. The concern follows Erdogan doubling down on his opposition to higher rates and blaming the market for the turbulence. 
While he affirmed that a weaker lira could boost Turkey's competitiveness, the central-bank action suggests authorities do want to stop the currency's slide to minimize its impact on inflation and consumer demand.
The lira declined 1.1% to 13.9436 per dollar as of 4:32 p.m. in Istanbul, after reaching a low of 13.9548 and a high of 13.7396. Turkish stocks also fell, with the Borsa Istanbul Banks Index losing as much as 2.8%.