U.S. Yields Set for Biggest Weekly Drop in Year as Shorts Exit
(Bloomberg) -- Treasury 10-year yields headed for their biggest weekly decline in a year amid signs traders are further unwinding short positions in U.S. government debt despite a jump in consumer prices.
Benchmark yields have tumbled 11 basis points this week, putting them on track for their biggest drop since June 2020, and touched a three-month low of around 1.43% on Friday. They had briefly ticked up following the faster-than-expected inflation data on Thursday before swiftly heading back lower again.
The prolonged downward trajectory of U.S. yields in recent sessions without a clear catalyst suggests a shift is underway in trader positioning. Investor surveys indicate there is large short base in the market, and data shows bond positions declined in Wednesday's rally, which is consistent with investors doing some unwinding.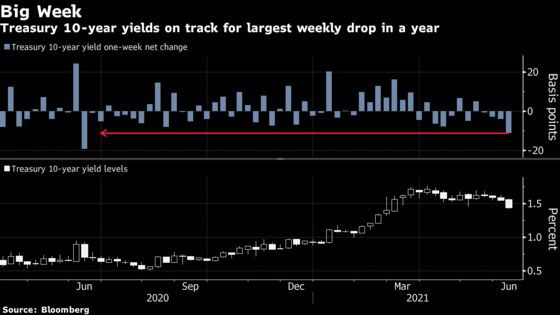 "The market has seen short covering and reflation unwind trades," Andy Brenner, head of international fixed income at National Alliance, wrote in a research note.
Meanwhile, auction demand this week has also helped bolster bond markets. A $24 billion reopening of 30-year bonds on Thursday saw end-user demand rising from the previous sale, leaving dealers with 18% of the total. A 10-year auction the previous day saw the smallest dealer takedown in five years.
The lack of reaction to the latest inflation print suggests traders don't think it'll be enough to shift the Federal Reserve's stance at its June 15-16 meeting.
"From the Fed's perspective, this pickup in inflation over the last couple months, while much more than expected, still looks 'transitory,'" NatWest Markets strategists including John Briggs wrote in a client note.
Still, some hawkish risks may emerge next week given the low yield levels and investors' assumption that Fed Chairman Jerome Powell will play down talk of a tapering and reaffirm the stance that price pressures will be transitory, Briggs said.
While nominal bond yields tumbled on the consumer-price data, 10-year breakeven rates -- a bond-market proxy for the annual inflation rate expected over the next decade -- have climbed to around 2.37%. As a result, 10-year real yields have fallen to around 0.94%, helping to limit dollar strength.