Treasuries Now Rival Italian Bonds for Japan's Yield Hunters
(Bloomberg) -- A rout in Treasuries this year has changed the equation for Japanese investors in global markets, with the U.S. bonds now offering them almost as much yield as riskier issuers such as Italy.
Treasuries now give Japanese funds, some of the biggest owners of global debt, higher currency-hedged returns than all of Europe's high-grade sovereign paper.
After accounting for currency-hedging costs -- which are hovering near the lowest in at least three years for both the euro and the dollar -- Japanese buyers can pick up a yield of 0.9% on 10-year Treasuries. That's a handful of basis points less than comparable Italian debt, with the difference between the two at the narrowest since 2015.
The European Central Bank's aggressive bond-buying program has capped yields, and the region is struggling with a bleaker economic outlook than the U.S. amid stringent lockdowns and a slow start to vaccination programs. Meanwhile, reflationary themes have dominated U.S. markets as investors look to the forthcoming stimulus package to support growth.
While Japan is the largest foreign holder of U.S. sovereign bonds, its funds were selling Treasuries and buying higher-yielding debt in Australia and China in 2020. They were getting a negative rate from buying the U.S. bonds after hedging in the first quarter of last year.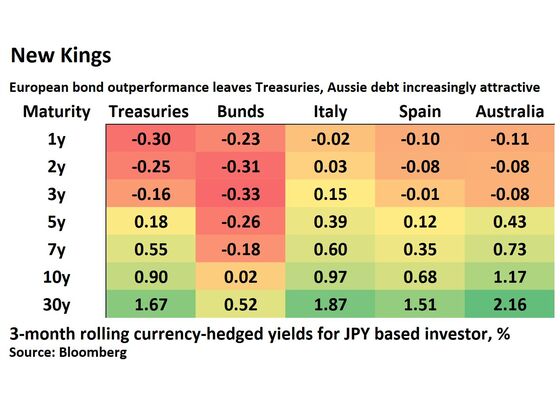 When Treasury yields had first breached the 1% threshold in early January, money managers in Japan were saying it needed to climb to 1.3% before they become attractive. That level was reached on Tuesday.
Australia's 10-year bond yield continues to be the most attractive of all major government debt markets for Japanese buyers.