Toronto Home Prices Rise 22% to Record With Supply Vanishing
Toronto Home Prices Rise 22% to Record With Supply Vanishing
(Bloomberg) -- Toronto home prices rose to a record as a sharp decline in the number of properties coming up for sale stoked competition among buyers, leaving little prospect the market will cool soon.
The average price of a home sold in the Toronto region in November was was C$1.16 million (about $904,000), up 22% from last year. The number of new listings fell 13%, according to data released Friday by the Toronto Regional Real Estate board. 
Ultra-low mortgage rates, an open immigration policy and demand for larger living spaces in the pandemic have combined to created a homebuying frenzy that has made Canada one of the hottest housing markets in the world. Now, with the central bank signaling that interest rates could rise as early as April, buyers are finding incentives to try to get in the market now. 
But there's little to buy. There were about 6,100 active listings at the end of November -- fewer than half the 13,800 on the market a year earlier.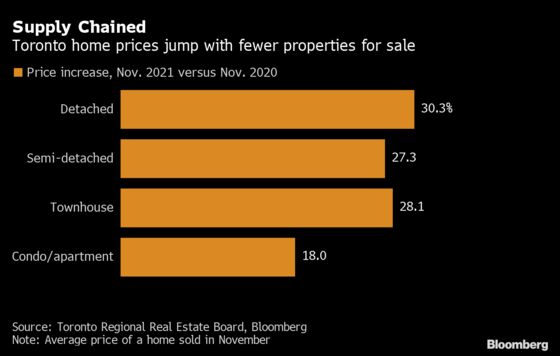 The real estate board said that without policy measures, there won't be enough new housing built to correct the supply-demand imbalance. 
"Governments at all levels must take coordinated action to increase supply in the immediate term," Kevin Crigger, president of the Toronto real estate board, said in a press release accompanying the data. "Unless governments work together to cut red tape, streamline the approval processes, and incentivize mid-density housing, ongoing housing affordability challenges will escalate."
Though the cost of homes became an issue in the September election that returned Prime Minister Justin Trudeau to power, many of the levers that could increase the housing supply in Toronto and elsewhere lie with zoning and development rules controlled by local and provincial governments.
The drop in listings meant the total number of sales slipped 2.5% on a seasonally adjusted basis from the month before. The average length of time a property stayed on the market was just 13 days. The data include the urban core of Toronto and its suburbs.  
Sales of all types of ground-level homes registered fewer sales in November, but transactions for condominiums, which had gone out of favor last year after Covid-19 hit, surged 42% as pickings among other property types grew slim and higher immigration flows bring the prospect of more potential tenants for units that are rented out.