Tiger Woods Recovering After Solo Car Crash Near Los Angeles
(Bloomberg) -- Tiger Woods, who suffered severe injuries from a solo car crash after his SUV rolled over in steep terrain near Los Angeles, is currently awake and recovering, according to the hospital treating the golf star.
Woods, 45, had "significant orthopaedic injuries to his right lower extremity that were treated during emergency surgery," Harbor-UCLA Medical Center Chief Medical Officer Anish Mahajan said in a statement posted to the athlete's Twitter account.
Woods was traveling on a winding, downhill road that has been the scene of frequent accidents, Sheriff Alex Villanueva said at a press conference Tuesday afternoon. There are indications that the golfer was traveling at a "relatively greater speed than normal," he said.
Woods's car hit a sign and a tree before coming to a stop in the brush. There was no evidence he was impaired and blood wasn't drawn to determine if he was, Villanueva said. A neighbor reported the accident. Woods was conscious when first responders arrived and extricated him from a Genesis GV80 using an ax and other tools.
Deputy Carlos Gonzalez, who responded to the scene, said he asked Woods his name and when the athlete identified himself as Tiger, "at that moment, I immediately recognized him." The deputy said Woods was wearing a seatbelt and that airbags had deployed. He wasn't able to stand on his own.
"It's very fortunate that Mr. Woods was able to come out of this alive," he said.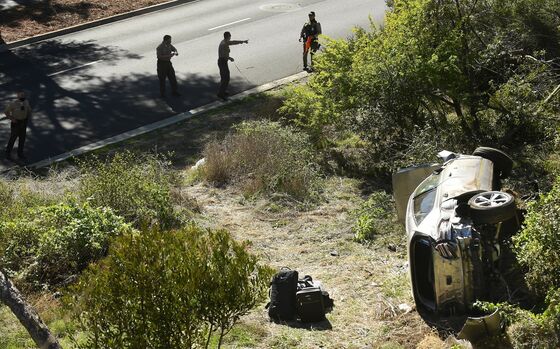 Genesis, Hyundai Motor Co.'s luxury division, is the sponsor of the PGA Tour tournament where Woods served as a host. The event was held last week in Los Angeles at the Riviera Country Club.
"This morning, Genesis was saddened to learn that Tiger Woods had been in an accident in a GV80," the company said in a statement. "Our thoughts and prayers are with Tiger and his family at this time."
Woods crossed the center divider after losing control of the SUV. The vehicle rolled over multiple times, and Woods had to be removed through the windshield.
On Wednesday, County Supervisor Janice Hahn directed the Department of Public Works to embark on a safety review of the stretch of Hawthorne Boulevard where Woods was hurt.
Since turning pro in 1996, Woods has been one of the most successful golfers in history, winning some 106 tournaments, including 15 of the majors. He's long been a spokesman for Nike Inc. and served as an inspiration to young players, particularly given his Black, Asian and Native American background. The athlete was recovering from recent back surgery.
Woods's life has also had its share of upheaval and scandal, including a 2009 car accident in Florida and another 2017 arrest after being found passed out behind the wheel. He was the subject of a two-part documentary that aired on HBO last month.
"We are following the news around Tiger and our thoughts and heart are with him and his family at this time," Nike said in a statement.
PGA Tour Commissioner Jay Monahan also said he was monitoring the situation. "On behalf of the PGA Tour and our players, Tiger is in our prayers and will have our full support as he recovers," he said.
Before the crash, Woods was participating in a two-day shoot for Golf Digest/GOLFTV, according to the publication. It involved Woods giving golf lessons to celebrities, such as Dwyane Wade and David Spade, at Rolling Hills Country Club.
The first day of the shoot was Monday, Golf Digest said. Woods never arrived at the course for the second day. Both the magazine and the channel are owned by Discovery Inc.
The celebrity website TMZ.com reported that he was speeding to the shoot and that he almost hit another man's car as he raced out of his hotel.