Migrants Trying to Reach Post-Trump U.S. Expelled by Guatemala
(Bloomberg) -- Hundreds of Honduran migrants trying to reach the U.S. have been deported by Guatemala following clashes with security forces over the weekend.
Guatemala's immigration authority said it sent 992 migrants back to Honduras, while another 21 who tested positive for Covid-19 are being quarantined.
Migrants were greeted with sticks and tear gas in southern Guatemala on Sunday as they tried to force their way through a roadblock. Their goal is to make it to the U.S. where many believe Joe Biden will improve the treatment of migrants after he is sworn as President this week.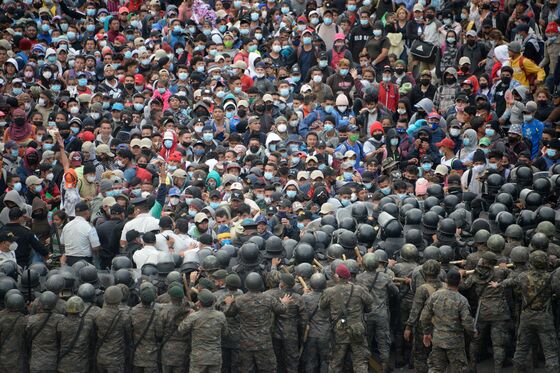 Thousands of Hondurans set off last week in the first migrant caravan of 2021, after the pandemic and two hurricanes devastated the economy.
Mexican President Andres Manuel Lopez Obrador said on Monday his government wants to hold a dialogue with migrants in Honduras and Guatemala "so that they are attended to and do not try to force their way into any country."
Mexico's Migration Institute INE said that the national guard and the defense ministry were on alert in the southern state of Tabasco, which borders with Guatemala, ahead of the expected arrival of the caravan.
Last year, Lopez Obrador promised his U.S. counterpart Donald Trump that he would halt undocumented migrants, turning away thousands with the help of the national guard. It's unclear if his stance on migration will shift after Biden takes office on Wednesday.