Undocumented Workers Who Power New York's Economy Finally Get Pandemic Aid
Undocumented Workers Who Power New York's Economy Finally Get Pandemic Aid
(Bloomberg) -- Thousands of undocumented immigrants who lost their jobs working as cooks, delivery workers, day laborers, nannies and in other essential jobs are finally getting pandemic unemployment aid.
New York state has approved applications for nearly half of a $2.1 billion fund — the biggest of its kind — to help workers excluded from government aid during the pandemic. The state is starting to disburse $550 million this week from the landmark Excluded Workers Fund (EWF).  Since opening on August 1, it has received more than 163,000 applications, mostly from undocumented immigrants.
New York is hoping that supporting these workers can help revive the state's battered economy. Forty-two percent of New York City small businesses shuttered as of April, and unemployment was at 10.2% in August, about double the national average of 5.2%. Tourism, which isn't expected to fully recover for another three to four years, lost billions last year.
More than 500,000 undocumented people live in New York City, followed by Long Island, Hudson Valley and other parts of New York. The Fiscal Policy Institute (FPI) estimates that giving $850 million of the EWF — the amount approved earlier this month — to excluded workers would boost New York City's economy by $600 million, Long Island by $70 million and Westchester by $35 million. "It's going to be spent on groceries, tutors, health care," said New York Assemblyman Ron Kim​​​​​​. "It's going to really liberate local economies that have been suffering."

Landmark Infusion
Governor Kathy Hochul has called the fund a lifeline for immigrants and prioritized getting Covid-19 relief money into the hands of New Yorkers since taking office last month after Andrew Cuomo's resignation. Quick approval of EWF applications has surprised advocates expecting bureaucracy, particularly after sluggish progress on applications for a $2.7 billion rent relief fund opened June 1.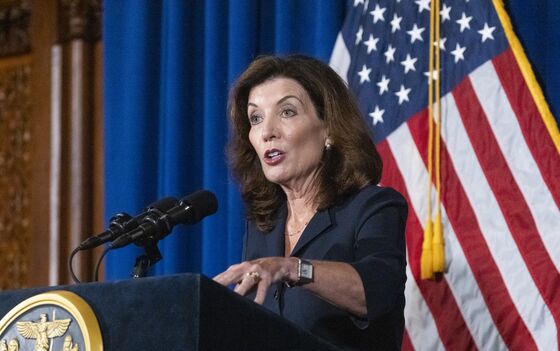 The EWF by far dwarfs any other U.S. program for excluded workers ineligible for government Covid-19 relief such as unemployment benefits and other aid. People are eligible for $15,600 or $3,200 depending on proof of previous employment, a 50% drop in income, identity and state residence. They can qualify for the larger amount if they have formal documentation, such as income tax returns and a New York drivers license, versus less formal ones such as a utility bill to prove residence. So far 99% of approved applications are for the larger payment, which far exceeds early estimates from FPI. 

The difference between the larger and small tranche of funds "is people not being displaced from their homes," said Jirandy Martinez, executive director of Community Resource Center, based in Westchester County, which serves about 4,000 people who hail largely from Mexico, El Salvador, Guatemala, Jamaica and Haiti.
While New York's $15,600 is much less than the $34,000 that others received under one year of Covid-19 unemployment benefits, other states have significantly smaller funds for excluded workers, if they have them at all.  California has the next biggest pot of money for its excluded workers, setting aside $340 million for the entire state.
The EWF was created after 18 months of lobbying and campaigning by 200 advocates and community groups in New York. Core groups, including Make the Road New York, Street Vendors Project and Community Resource Center, organized protests, including an overnight sleep-in in front of the New York City apartment of Amazon CEO Jeff Bezos, a shutdown of Brooklyn Bridge and Manhattan Bridge and a 23-day hunger strike.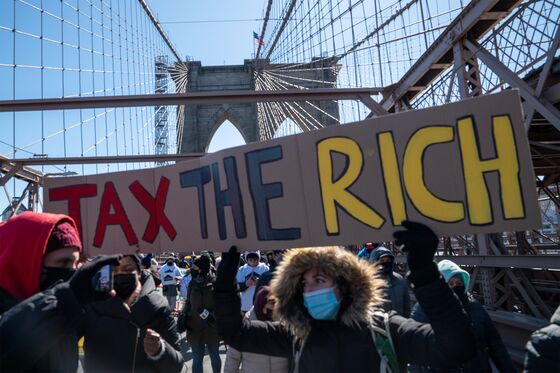 Republican state lawmakers criticized the EWF for being double the size of the state's $1 billion relief package for small businesses. 

Across the U.S. undocumented workers pay an estimated total of $11.74 billion in state and local taxes each year, according to a report from the Institute on Taxation & Economic Policy.  FPI estimates that about half of those in the U.S. pay income tax through employee identification numbers, as well as sales and payroll tax.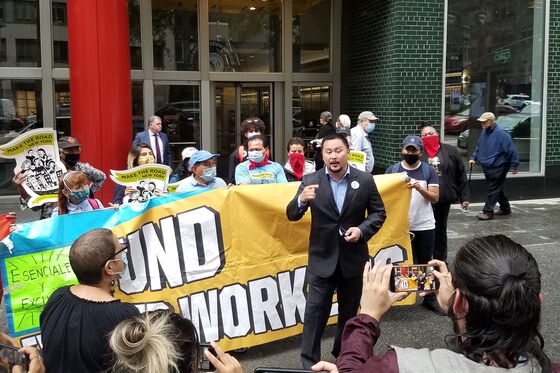 Applications and information about the fund are in 13 different languages, including Spanish, Chinese, Korean, Arabic, Bangla, Haitian Creole and Polish. Close cooperation with grassroots organizations has been critical to reaching people. And even after groups began EWF outreach, New York granted $14.3 million to 74 nonprofits across the state in August to help workers with paperwork.
Applications are more straightforward than the Emergency Rental Assistance Program, which only approved about $680 million of $2.7 billion in three months, according to New York state. Yet there are still hurdles, such as proving prior employment for people who don't have pay stubs or tax returns. "That's not an option for a lot of workers," said Bianca Guerrero, campaign coordinator for Make the Road.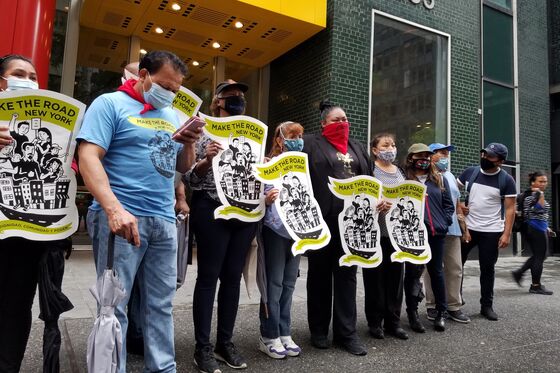 Since employers are often reluctant to admit they employed someone off the books, advocates persuaded the state's Department of Labor to accept other proof of employment, such as text messages. It is also sometimes difficult to prove residence since people often informally sublet or rent rooms without a lease. The state has expanded the kinds of documents it accepts. 
Street vendor Aleseli Sanchez used a hospital bill to prove her residency. The mother of three sells sandwiches and Mexican food to construction workers in Manhattan. In September, Sanchez was approved for $15,600 that she will use to pay back rent and overdue bills.
Sanchez, who arrived in the U.S. from Mexico 16 years ago, speaks limited English. She said it would have been difficult for her to fill out her application without help from Steffany Cielo, program coordinator with Street Vendors Project.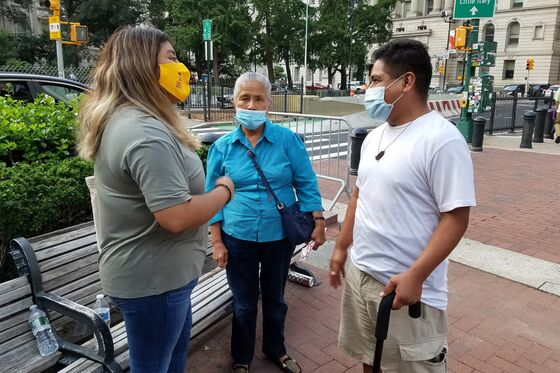 Cielo also helped her own uncle, an immigrant from Mexico, successfully apply to the fund. When he receives the money, he plans to pay back rent accumulated after he was severely sickened by Covid-19 last year and lost his deli job in Manhattan.

Immigrant Reticence

The speedy disbursal of the EWF is positive, but advocates are also concerned the money is running out too quickly. Some community groups are still getting up and running, such as nonprofit Chinese-American Planning Council (CPC), which is still finalizing staffing for EWF outreach.
Many of Assemblyman Kim's constituents in Flushing, Queens have not heard of the fund or are afraid to take government assistance. "It's hard to reduce that to a few months of outreach," he said.
Advocates said they would press Governor Hochul for more funding "so that more people who were left out of any economic aid have an opportunity for a just recovery," said Assemblymember Marcela Mitaynes of Brooklyn.
Another lingering hurdle is overcoming mistrust among immigrants. Many people are wary of interacting with the government, especially because of the lasting threat of "public charge" under Donald Trump's administration, said Mohammed Attia, executive director of Street Vendor Project. That rule jeopardized future applications for citizenship if immigrants accepted government assistance.

Public charge was rescinded this year under President Joe Biden, but fear of potential deportation and uncertainty remains. "Some people," said Attia, "won't even think about applying to the fund because of potential risk."