TFG Expands Jet Stores in South African Discount Clothing Drive
TFG Expands Jet Stores in South African Discount Clothing Drive
(Bloomberg) -- The Foschini Group Ltd. plans to extend its cheaper South African clothes offering by opening 100 Jet stores over the next three years, reflecting the toll the pandemic has taken on consumer spending along with the opportunities offered by shorter leases and lower rents.
The owner of chains including Foschini, @home and Total Sports also plans to add homeware to existing Jet stores, and to open as many as 10 Jet Home stores, TFG Chief Executive Officer Anthony Thunström said in an interview Thursday.
"We've seen gaps for Jet stores across the country, especially in smaller towns," Thunström said. Some of the store openings will come from re-signing leases with landlords that Cape Town-based TFG had struggled to get commitments from a year ago, when it bought the Jet chain from the administrators in charge of Edcon Holdings Ltd.
TFG shares reversed an earlier loss of as much as 6% to climb 3.1% as of 4:33 p.m. in Johannesburg. A close at this price would be the highest in almost 19 months.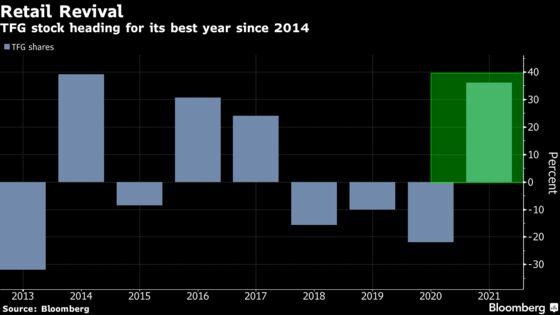 The foray into discount clothing follows TFG's decision to ramp up production at its South African factories, helping the retailer increase locally made products by 60% last year.
TFG is also focusing on younger shoppers who are happy to buy second-hand clothes through a partnership with Yaga, the country's biggest online used clothing retailer. For each second-hand item of clothing sold on Yaga, the seller receives a voucher from the Foschini chain to buy something new from its stores. The partnership is intended to promote the reuse of garments and to create awareness about conscious consumption, Thunström said.