Swiss Economic Recovery Seen Slowing as Global Risks Weigh
(Bloomberg) -- The Swiss government lowered its outlook for economic growth this year, citing headwinds such as the global logistics logjam and the slow resumption of intercontinental travel. 
Gross domestic product is forecast to expand 3.4% this year, down from a previous forecast of 3.8%, the State Secretariat for Economic Affairs said on Thursday. The inflation rate is set to remain low, averaging just 0.5% in 2021. 
"Capacity bottlenecks are currently limiting the growth of global industrial production, which leads to price increases, and the services sector is hampered by stricter coronavirus measures in some countries," the SECO said in a statement. "However, provided that severely restrictive measures such as business lockdowns are not imposed in the coming months, the economic recovery should continue uninterrupted."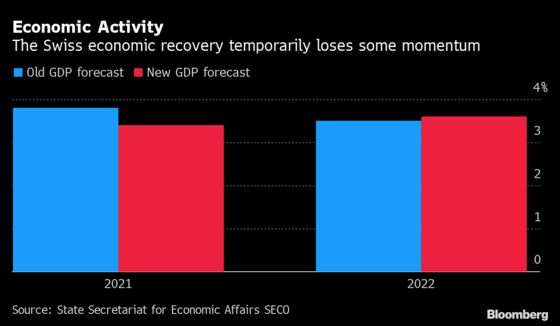 The Swiss economy has bounced back from lockdowns more quickly than even neighboring Germany, with the Swiss National Bank's ultra-loose monetary policy dampening appreciation pressure on the franc. 
The strong currency has so far helped to prevent the surge in consumer prices seen in Germany or the U.S., and a much-feared wave of unemployment and business insolvencies hasn't materialized. 
The global economy is set to gain pace over the next year, and the Swiss economy is forecast to grow faster than its historical average in coming quarters due to compensatory consumer spending and investment, the SECO also said. 
The SNB's next decision is scheduled for Sept. 23, and officials will probably keep their deposit rate unchanged at -0.75%.