Economists Voice Skepticism at Swedish Unemployment Drop
Economists Voice Skepticism at Swedish Unemployment Drop
(Bloomberg) -- Sweden's unemployment rate defied expectations by falling sharply in March, with economists warning of possible lags in the data as the Nordic region's biggest economy braces itself for a contraction of at least 4% this year due to the Covid-19 pandemic
According to Statistics Sweden, the seasonally-adjusted rate fell to 6.7%, down from a revised 7.5% in February. Economists were expecting a rate of 7.8%, according to the median of seven estimates from a Bloomberg survey. The unadjusted rate plunged to 7.1%. The agency however stressed that there are "clear signs of the effects of the crisis in several estimations in the LFS for March," pointing to a sharp decrease in the number of hours worked.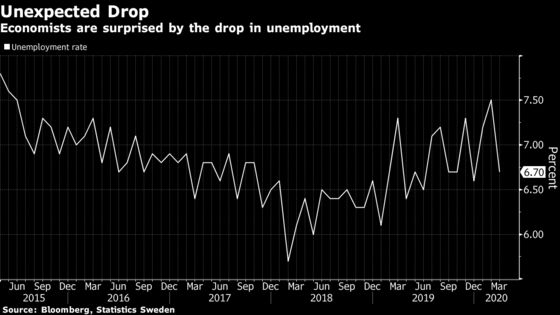 The March data is "indeed a very fishy number, considering what is going on in the economy," Danske economist Michael Grahn said. "A better guide is the fact that working hours are down by close to 5% year-on-year in calendar-adjusted terms."
Bloomberg economist Johanna Jeansson:

"The headline number masks a clear deterioration in the labor market in March. Less employed, fewer people in the work force and a drop in hours worked shows the beginning of the fallout from the pandemic. We expect unemployment to rise swiftly from here."
Economists had been warning prior to Tuesday's release that the weakening of the labor market has only begun. According to a recent forecast from the Finance Ministry, unemployment is set to reach 9%, but may surge above 13% in a worst-case scenario. The quality of the labor market estimates has also been brought into question following a scandal last year involving the agency charged with collecting the data.
Read more: Sweden Government to Meet Stats Office Over Labor Data Issue
Tuesday's data follows a weekly statistics from the Public Employment Services showing a slowdown in the number of redundancy notices in the week ending April 19.
The krona gained on Tuesday's release.