Suriname Poised to Reach Deal With Bondholders After Default
Suriname Poised to Reach Deal With Bondholders After Default
(Bloomberg) -- Suriname is set to reach a deal with creditors as soon as this week after missing a $25 million interest payment on its bonds and officially entering default, according to three people familiar with the matter.
Officials in Paramaribo are discussing an accord with the nation's bondholders to delay payments and avoid a disorderly default, with a deal expected this week, said the people, who requested anonymity because the matter is private. The South American country skipped past the 30-day grace period on its 2026 dollar notes, which were originally due on Oct. 26, the people said.
The Suriname Creditor Committee, which represents some holders of the nation's 2023 and 2026 bonds, said in a statement on Monday that it will support the government's proposal. Members of the group include Franklin Templeton Investment Management Limited, Eaton Vance Management, GMO LLC and Greylock Capital Management.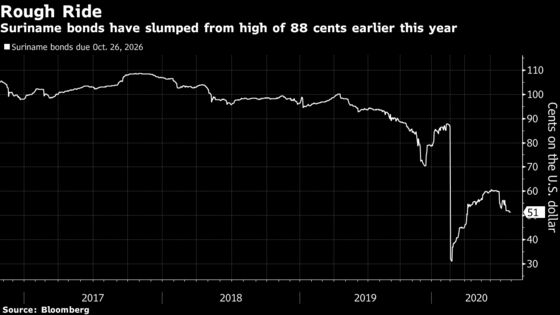 The nation's revised offer, which expires Friday, includes a provision to waive current default events for the 2026 notes. It also would give the government several months of breathing room on payments for the securities due in 2023.
Suriname's Finance Ministry didn't respond to requests for comment.
The nation's bonds have slumped 21% this year, according to data compiled by Bloomberg. That puts it among the world's worst performers, along with the quartet of Lebanon, Ecuador, Venezuela and Argentina, which have also defaulted or restructured their debt. Aside from negotiating with bondholders, Suriname is also pursuing a program with the International Monetary Fund.