Suicides Among U.S. Kids, Young Adults Jumped 57% in Past Decade
Suicides Among U.S. Kids and Young Adults Have Been Soaring
(Bloomberg) -- Increasing numbers of American children and young adults died by suicide in recent years, and the Covid-19 pandemic threatens to continue the trend.
Suicide rates among youth ages 10 to 24 increased by 57% between 2007 and 2018, data released Thursday from the National Center for Health Statistics shows, rising from almost 7 per 100,000 population to nearly 11. Comparing three-year averages from 2007 to 2009 to the time period between 2016 and 2018 brought the increase down to 47%.
"There are many reasons to suspect that suicide rates will increase this year too, not just because of Covid-19 but because stress and anxiety seem to be permeating every aspect of our lives," said Shannon Monnat, co-director of the Policy, Place, and Population Health Lab at Syracuse University.
The 2016 to 2018 suicide rate among those between ages 10 and 24 was highest in more rural states including Alaska, South Dakota, Montana, Wyoming, and New Mexico. Alaska topped that list with 31.4 young suicides per 100,000 population.
Northeastern states -- including New Jersey, Rhode Island, New York, Connecticut, and Massachusetts -- showed the lowest rates. Despite their relatively small numbers, New Jersey experienced a 39% rise, New York saw an increase of about 44%, and Massachusetts showed a jump of 64%.
Rates more than doubled in New Hampshire, and the majority of states showed an increase between 30% and 60%.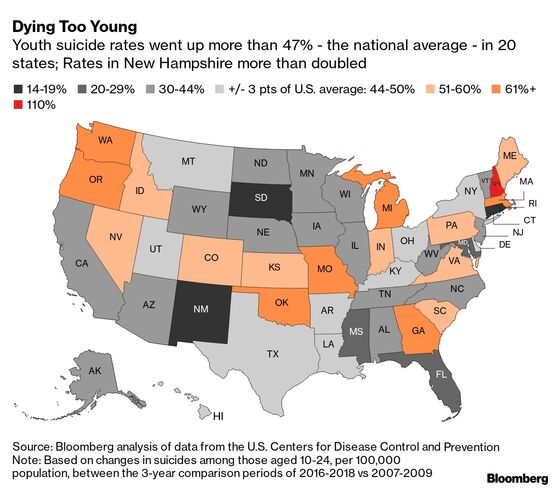 Recent research has documented increases in serious psychological distress, major depression, and suicidal thoughts and attempts among youth. A survey conducted this summer by the Centers for Disease Control and Prevention found that more than one-quarter of young adults reported having seriously considered suicide in the 30 days before completing the June 24–30 questionnaire.
"Anxiety is high in the population as a whole, thanks to political and social unrest. Children are not immune from those stressors," said Monnat, who noted economic woes in particular.