Suburban NYC Housing Frenzy Slows With Buyers Showing Fatigue
Suburban NYC Housing Frenzy Slows With Buyers Showing Fatigue
(Bloomberg) -- Contracts to buy suburban New York homes have scaled back from their frenzied pace at the height of the pandemic.
That doesn't mean buyers have lost interest in acquiring spacious abodes -- they're just not finding much on the market. And they're getting tired of fighting off competitors for what little there is.
"Losing your fifth bidding war on a property is discouraging," said Jonathan Miller, president of appraiser Miller Samuel Inc. "Part of this is consumers being fatigued with the process, and having other options in life these days, like vacations and travel."
As Covid restrictions ease and more workers start plotting a return to the office, suburban sales are still rising at a clip that would please the owner of any real estate brokerage. But annual increases in signed deals are more measured than they'd been for much of the past year.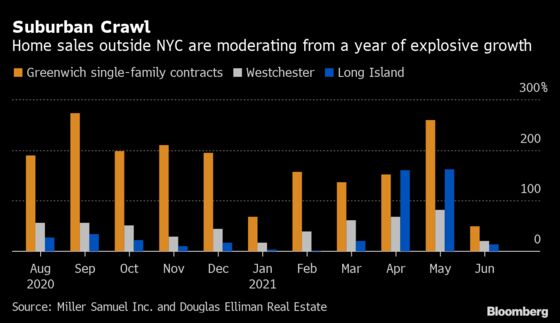 In Long Island, contracts to buy single-family homes were up 14% in June from a year earlier, according to a report Friday by Miller Samuel and Douglas Elliman Real Estate. That's down from May and April, when deals soared 160% from the corresponding months in 2020.
Westchester County saw 20% more contracts last month than in June 2020. But in May, the annual increase was 81%. In Greenwich, Connecticut, June's 50% jump in contracts was the smallest year-over-year gain in data going back to last July.
"You know what happened? We ran out of inventory," said Scott Durkin, president of Douglas Elliman.
Listings for single-family homes last month fell 45% in Westchester, and 3% in Long Island. Greenwich listings dropped 11%.