Stripped Prisoners on Floor Latest Tool of Salvadoran President
Stripped Prisoners on Floor Latest Tool of Salvadoran President
(Bloomberg) -- The photographs bounced around the world -- hundreds of tattooed Salvadoran prisoners stripped to their underwear, crowded onto the cement floor in a forced embrace of one another. With the threat of viral infection palpable, not to mention human rights concerns, the pictures looked like they'd been sneaked out.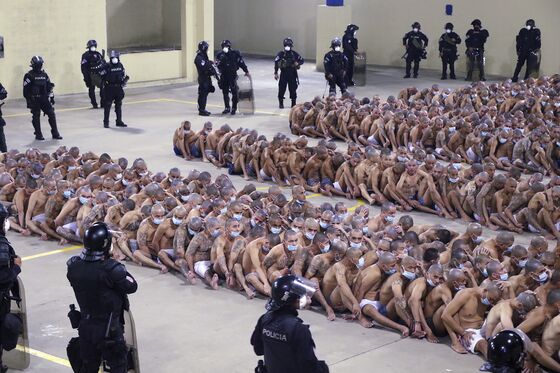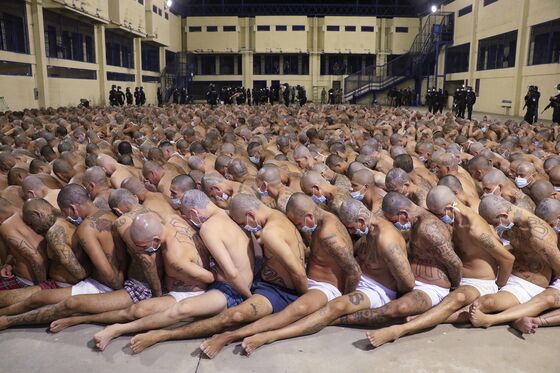 But they were issued by the office of President Nayib Bukele as he announced a state of emergency in the prisons, vowed the use of "lethal force" and pledged to break up the notorious gangs that vie with him for control of his nation of 6.5 million.
It was only the latest display of power by the young president, in office less than a year whose take-total-charge style has earned him an enormous following at home and much concern there and elsewhere.
"I call it punitive populism," said Salvadoran security specialist Jeannette Aguilar. "These measures come in the context of Bukele's style of publicity and media use that seek to ingratiate him with public opinion."
The president's office didn't respond to a request for comment.
Workers installed metal slabs over jail cell doors this week to prevent inmates from communicating with other prisoners. This was happening because murders, which had fallen to a record low in March, spiked last weekend. Some 24 people were killed on Friday, one of the deadliest days since Bukele took office last June. Deputy security minister and director of prisons Osiris Luna Meza said orders to kill likely came from inside jails and insisted prisoners "won't see a ray of sunlight."
This is all happening as Bukele fights the congress and Supreme Court over his handling of the pandemic.
At first, he earned cautious praise for quick steps. Bukele was the first president in the western hemisphere to ban all foreigners from entering the country and declare a national lockdown to prevent the spread of Covid-19.
But tensions have arisen. More than 2,000 people have been detained for violating stay-at-home orders since they began in March. A Supreme Court ruling this month called the detentions illegal and said congress must first pass a law regulating the arrests. Bukele said he would disobey the court's order, claiming that "no resolution is above the Salvadoran peoples' constitutional right to life and health."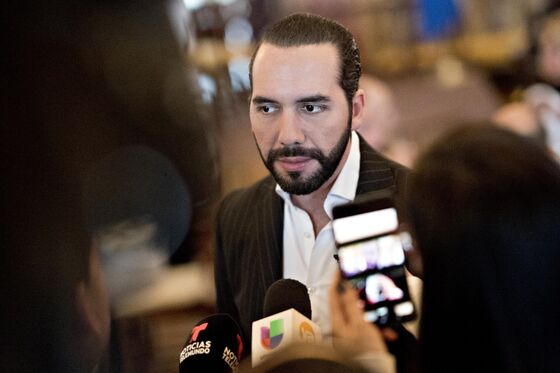 Last week, he abruptly halted a plenary session where lawmakers moved to override presidential vetoes on life insurance for health workers and helping Salvadorans abroad return home. He claimed the government had suspicions the legislature was infected with coronavirus.
In a press release, congress said the move was an irresponsible violation of legislative independence. El Salvador will hold congressional elections in February 2021.
This wasn't his first clash with the legislature. In February he surrounded the National Assembly with soldiers and called for ousting lawmakers who vote against his proposed security loans.
"At this point, I think all of his actions are guided by electoral considerations," said Eurasia Group analyst Risa Grais Targow. "Security has traditionally been an area where his actions have polled well, whereas the economy, which is clearly going to take a big hit this year, is more of a public opinion liability."
Bukele faces an economy likely to shrink 5.4% this year, the worst contraction since 1982 according to the International Monetary Fund, which approved $389 million in emergency funding for the country.
He is seeking an additional $1 billion in borrowing authorization from Congress for virus response, on top of a $2 billion already approved, and plans to extend a lockdown through May 16.
Plagued by gang violence, El Salvador is among the world's most violent nations. Bukele, 38, took office pledging to crackdown on crime and has enjoyed approval ratings near 90%, frequently issuing orders via Twitter and using social media to reach voters. In March, he did a Facebook Live interview with popular Puerto Rican rapper Residente.
U.S. President Donald Trump spoke via phone with Bukele on Friday, offering to help the nation with ventilators and testing for the novel coronavirus. So far, Bukele has been cooperative with Trump's agenda on immigration, helping him skirt criticism from Washington D.C, said Adam Isacson, director for defense oversight at the Washington Office on Latin America. While Bukele has signed safe third country agreements to take in asylum seekers, his authoritarian tendencies are a concern, he said.
"Bukele is very unlikely just to stop at gang members. He's ignoring the Supreme Court and congress and has few checks on his power," said Isacson. "Who is he going to go after like this next?"