Stock Bulls Warily Eye Support Lines on Powell's Hawkish Tone
Stock Bulls Warily Eye Support Lines on Powell's Hawkish Tone
(Bloomberg) -- Newly hawkish comments from Jerome Powell have sent the S&P 500 tumbling dangerously close to what some analysts consider key technical support levels. 
The S&P 500 sank almost 2% to as low as 4,565 Tuesday, after the Federal Reserve Chair weighed an earlier end to tapering asset purchases that could clear the way for a rate hike. The threat from the omicron virus variant and inflation that has lasted longer than any central banker anticipated had already been whipsawing stocks this month, sending a measure of volatility to its highest since January.
Now battered bulls are looking to chart lines for levels where buyers may emerge to arrest the S&P 500's latest drop. One is 4,546, the high in early September that gave way to a drop of almost 5% that month. Another is 4,489, the redrawn long-term uptrend support from the March 2020 and October 2021 lows, according to RBC Capital Markets' Lori Calvasina. A close below the latter level -- which sits almost 2% below the index's current reading -- could cause damage to the long-term uptrend and signify a roughly 5% decline from year-to-date highs.
The S&P 500 pared losses to 1.7% to 4,582 as of 1:00 p.m. in New York. It hovered 1% above its average price for the past 50 days, a level it hasn't been below since mid-October.
Katie Stockton, founder and managing partner of Fairlead Strategies LLC is also watching 4,546 as support for the S&P 500, nothing that the benchmark's 50-day moving average is rising to meet that level.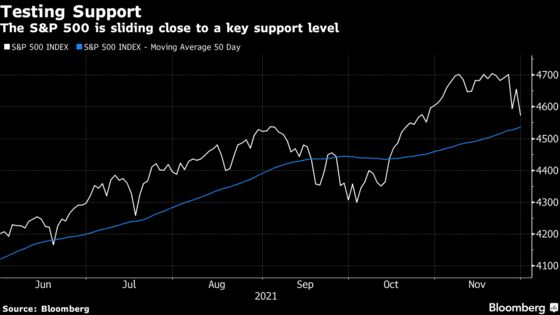 Two closes below 4,546 would increase risk for the market, though Stockton said that "it is not a major level and the SPX is oversold today for the first time since October 4, giving the level a better chance of holding."
Miller Tabak + Co.'s Matt Maley said that a break beneath 4,585 would send a "yellow warning flag" on the short-term potential for the stock market. But he says the S&P 500's October low of around 4,300 is the most important level for investors to watch. 
"That would give the S&P 500 it first major 'lower-low' since the March 2020 lows. Therefore, that level is the 'line in the sand' for the stock market," Maley said. 
"A meaningful break below that level would send up a big red warning flag," he added.