Startup Seeks Nod for Inhaler to Help Smokers Quit
Startup Seeks Approval for Inhaler That Would Help Smokers Quit
(Bloomberg) -- As Covid-19 adds urgency to smokers' attempts to quit, a U.S. startup says it has a new way to help them kick the habit.
Respira Technologies Inc. plans to submit an inhaler device to the Food and Drug Administration by late 2021 for authorization as nicotine replacement therapy. The nebulizer, which converts nicotine to an aerosol, aims to disrupt an estimated $618 billion market dominated by decades-old gums and patches from pharma companies as well as tobacco companies' more recent, controversial cigarette alternatives.
The company, based in West Hollywood, California, says that the global pandemic has sparked new interest in quitting, and today's users of vaping devices and e-cigarettes are in need of updated cessation products.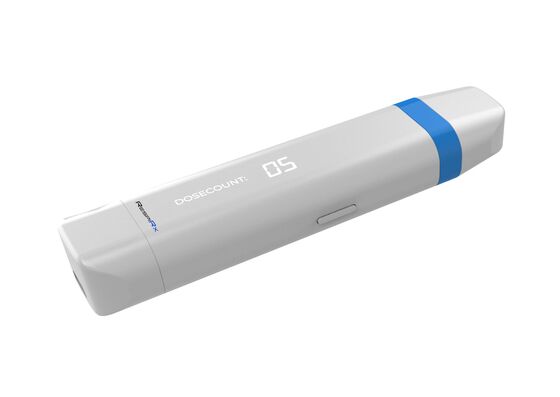 "The reality is we have folks who are addicted to nicotine who never tried combustible products before," Chief Executive Officer Mario Danek said, referring to tobacco products that are burned, like cigarettes and cigars. "They're used to sleeker products, and we have that design."
The device, called RespiRx, resembles an e-cigarette but works more like some asthma inhalers. It features blue-tooth wireless connectivity and its own app. Triggered by breathing, the RespiRx also emulates the hand-to-mouth experience of a cigarette -- which may prove to be a notable advantage over gums or patches.
The device will seek to wean users off nicotine by providing the ability to meter and gradually reduce nicotine intake via the mobile phone app. Respira aims to sell its product over the counter and its nicotine will be absorbed faster than gums or patches, Danek said.
Unlike e-cigarettes or vape devices, RespiRx doesn't heat nicotine, meaning it won't create byproducts that cause secondary concerns about toxicity, Danek said. Some cigarette alternatives, like those from Juul Labs, use a liquid and vapor, whereas others, like Philip Morris International's IQOS, heat dry tobacco without burning it.
Danek said Respira will seek to address concerns that users could simply use RespiRx as their new nicotine fix, instead of quitting.
"I anticipate that people will ask are we the next bait and switch," he said, emphasizing that the device would gradually reduce user's nicotine addiction. "I hope that this will be the best step-down tool."
Since cessation products are regulated as drugs rather than tobacco, getting FDA clearance to sell them is even tougher than winning approval for the devices that tobacco companies aim to market as a safer alternative to cigarettes, like the IQOS. So far, the FDA has yet to authorize any tobacco companies' plans to market e-cigarettes that way.
Respira is backed by venture capital firms Evolution VC Partners, Poseidon Asset Management and DG Ventures and currently has fewer than 10 full-time employees. The company is pursuing FDA approval on its own, but is also in talks for a deal with two multinational companies. One is in the due-diligence phase and the other is in earlier stages, Danek said. The FDA timeline could be accelerated if either deal goes through, he said.
The company hopes to use RespiRx as a platform that goes beyond nicotine, however. Respira is also in talks with other companies about using the device for other drugs, or even vaccines, Danek said.
The coronavirus pandemic has spurred new interest in products that help users of cigarettes and vaping products quit. Some public health agencies, including the FDA, have said smoking may worsen Covid-19 outcomes.
See Also: BAT Further Cuts Sales Growth Outlook on Virus Measures
In a recent study of U.S. smokers who also use electronic cigarettes,, published in Nicotine & Tobacco Research on April 28, Covid-19 prompted about a quarter of respondents to reduce their cigarette and vaping use. More than a third had more motivation to quit, while more than 20% reported an attempt to quit in order to reduce the risk of perceived harm from Covid-19.
Respira joins other companies in targeting the market for quitting tobacco. 22nd Century Group has a reduced-nicotine cigarette, and Sharecare, which makes digital health programs, this year announced an app-based quitting program. In the U.K., London-based Kind Consumer has launched Voke, a nicotine inhaler sold online.