SPAC Suits Double as Other Shareholder Class Actions Plunge
(Bloomberg) -- Class-action lawsuits against blank-check companies surged in the first half of the year, even as the number of overall shareholder cases alleging securities law violations plunged, according to a new report.
Federal suits against blank-check companies -- also known as SPACs, or special purpose acquisition companies -- have continued to pile up, with 14 such filings in the first half, compared to seven in all of 2020 and six in 2019, according to an analysis by Cornerstone Research and Stanford Law School's Securities Class Action Clearinghouse released Wednesday. More than half of the 14 suits alleged that targets of the firms defrauded investors by overstating the viability of their products, according to the report.
SPACs sell shares to raise money and search for acquisition targets. They can offer private companies a path to going public without the scrutiny of a traditional initial public offering. That has led to warnings from financial professionals in recent months that the flood of new SPACs is creating conditions for deals with unsustainable valuations and questionable disclosures. The Securities and Exchange Commission has been ratcheting up its scrutiny of SPACs this year, with agency officials warning for months that potential perils aren't being fully disclosed.
While most of these mergers have held up, shares of ATI Physical Therapy Inc., for one, fell sharply Monday and Tuesday on the release of ATI's first batch of earnings in its debut as a public company after merging with a SPAC. The blank-check company revised its revenue projections sharply lower and disclosed larger-than-expected turnover in staff. By the end of the day Tuesday, at least five law firms from coast to coast had published press releases urging investors who had lost money on the deal to contact them.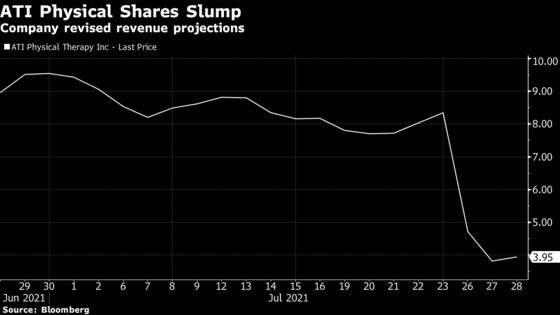 Overall there were 112 federal and state suits seeking class-action status and claiming such violations in the first half, down from 186 in the same period a year earlier and 150 in the second half of 2020, continuing a trend that began last year.
The drop was due mostly to a plunge in shareholder lawsuits over mergers and acquisitions, which fell to 12, the lowest level in federal courts since the second half of 2014, according to the report. M&A suits for the full year are on pace to be the fewest since 2014, when the U.S. Supreme Court tightened the limits on class-action lawsuits by shareholders.
"The better the market for investors, the worse the market for class-action securities lawyers," Joseph A. Grundfest, director of the Stanford clearinghouse and a former SEC head, said in a statement. "Plaintiff lawyers typically rely on sharp price declines for their best cases, and if the market isn't generating those declines, plaintiffs' ability to file big-ticket securities fraud actions is limited."
Since the report's SPAC figures are for federal lawsuits only, comparisons to trends in the two pools aren't exact.
Last year investors filed fewer than 400 suits seeking class-action status involving federal securities law for the first time since 2016, as courts were forced to limit proceedings during the coronavirus pandemic. That's after reaching a record high in 2019, according to a report from the groups released in February.
Merger objection cases were partly responsible for a surge in total filings starting in 2017, following a Delaware Chancery Court decision that limited the use of a common settlement model and drove investors to file in federal court instead.
The recent drop in the number of securities class actions could be attributed at least in part to a Delaware Supreme Court ruling last year allowing companies to insert federal forum selection provisions into their bylaws and charters," Bloomberg Intelligence analyst Elliott Stein said.
"That likely reduced the number of state court filings and maybe dissuaded some filings altogether," he said. "The rise of SPAC-related suits is no surprise given the huge increase in SPACs we saw in 2020 and early 2021."