Southern Africa Faces Unprecedented Drought and Food Shortages
A deepening drought in southern Africa is resulting in unprecedented food shortages, leaving millions of people hungry.
"This year's drought is unprecedented, causing food shortages on a scale we have never seen here before," said Michael Charles, head of the International Federation of Red Cross and Red Crescent Societies regional unit. "We are seeing people going two to three days without food, entire herds of livestock wiped out by drought and small-scale farmers with no means to earn money to tide them over a lean season."
The region has 11 million people facing hunger, according to the IFRC. Crop production in the region is down by 30% this season and the situation is set to worsen due to late or no rain, the group said on its website.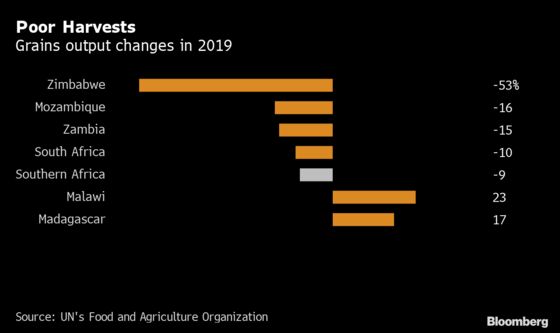 The United Nations International Panel on Climate Change has identified southern Africa as a so-called hotspot -- a region that faces increased risks of heat extremes and less rainfall as the planet's temperature rises.
Zambia and Zimbabwe are most affected, with 2.3 million and 3.6 million people respectively suffering from acute lack of food, the IFRC said.
Large parts of both countries are experiencing the worst drought in at least four decades. Water on the upper reaches of the Zambezi river is near its lowest level in a half-century, resulting in crop failures, a collapse in fish stocks, and a sharp drop in power from dams that provide Zambia with 80% of its electricity. Zimbabwe is facing the worst food shortages in its history.
Elsewhere in the region, Botswana, Lesotho and Namibia declared drought emergencies this year, the IFRC said.
To contact the reporter on this story: Agnieszka de Sousa in London at atroszkiewic@bloomberg.net
To contact the editors responsible for this story: Lynn Thomasson at lthomasson@bloomberg.net, Liezel Hill, Dylan Griffiths