SocGen Sees Three-Day Homeworking; ING Plans 50% Office Week
Societe Generale SA plans to allow its French staff to work from home for up to three days a week, joining peers including Deutsche Bank AG in providing one of the most flexible return-to-office policies among large international banks.
The Paris-based lender has signed an agreement with its domestic union representatives on the remote work plans, Chief Executive Officer Frederic Oudea said in an interview with Bloomberg TV on Thursday. He said that the move would "help us to further improve the attractiveness of Societe Generale as an employer."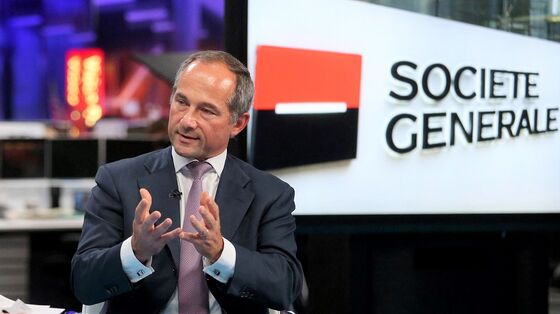 Banks around the world are adopting differing approaches to remote work as staff seek greater flexibility and a better balance between their work and personal lives after spending more than a year working from home. In the U.S., several lenders including JPMorgan Chase & Co and Goldman Sachs Group Inc. are pushing for a more systematic return to the office in coming weeks.
"We will not come back to something similar to before the pandemic, Oudea said. "We will adapt our way to work, and I think it's the right balance."
ING Groep NV wants to allow staff to work about half the time from home, depending on location, labor laws, the relevant building set-up and type of work they do, Steven van Rijswijk, the Dutch lender's CEO told reporters on Thursday.
"We started to experiment with that but quickly had to let go because the second lockdown started," he said. "We will resume those experiments as soon as we can. We do believe that in the future people will work more from home obviously than they did in the past."
ING has about 80% of staff working from home, with some gradually returning to offices in Asia and Australia, the CEO said.
Swiss private bank Lombard Odier expects to keep a system of rotation at the workplace to avoid concentrating people on its premises to curb contagion risks. The bank is offering more flexibility on remote work, according to senior managing partner Patrick Odier.
"We won't go back to being the same organization as we were before," he said in a phone interview. "We will have more work from home, and probably more virtual interactions than we had before."
Outside France, the pace of Socgen's staff return to the office will depend on how the pandemic evolves in each region, Oudea said.
European lenders including HSBC Holdings Plc and UBS Group AG are paring back office space as they consider new ways of working with the pandemic easing in some areas.
Lenders in the U.S., which has higher vaccination levels, are pushing harder to bring staff back to preserve their corporate culture.
JPMorgan expects all staff back to the office on a rotational basis by July, though it has signaled it may consider some flexible arrangements. Goldman Sachs CEO David Solomon has said work-from-home is an "aberration."