Snap and Pinterest Collapse Along With Meta on Growth Fears
Snap and Pinterest Collapse Along With Meta on Growth Fears
(Bloomberg) -- Shares of social-media companies fell sharply on Thursday, after a disappointing forecast from Meta Platforms Inc. spurred a historic slump in the Facebook parent's stock and added to concerns about the industry's growth prospects.
Snap shed nearly 24% and closed at its lowest since September 2020. The Snapchat parent has dropped more than 70% off a September peak, and it has trended lower ever since its third-quarter report in October. 
Pinterest sank 10% and closed at its lowest since July 2020. Twitter Inc. fell 5.6%. The group has come under pronounced weakness over the past six months, compared with a slight decline for the Nasdaq 100 Index.
The declines came as Meta's stock tanked 26%, its biggest one-day percentage loss on record. The drop erased more than $250 billion, the biggest value wipeout in market history, and shares fell to their lowest since July 2020.
There were a number of negatives in Meta's report, including ongoing pressure from a changed Apple Inc. privacy policy and competition from TikTok. Analysts said these issues are likely to impact stocks across the sector, raising additional risks for Snap Inc. and Pinterest Inc.
"Meta results bode poorly for the online advertising space on a number of vectors," wrote UBS analyst Lloyd Walmsley.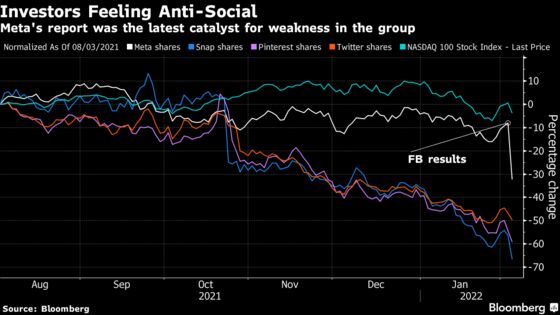 KeyBanc Capital Markets is also cautious on social-media stocks following Meta's report, cutting its price targets on Snap, Pinterest, and Twitter. The firm sees "ongoing ad measurement headwinds driving shifts out of social."
After the market closed on Thursday, Pinterest reported fourth-quarter results that beat expectations. Snap gave a revenue forecast that was ahead of the consensus.