Sky-High House Prices Have Traders Betting Against Korea's Bonds
Sky-High House Prices Have Traders Betting Against Korea's Bonds
(Bloomberg) -- South Korean bond bears have reaped a windfall as yields surged since September. Politics may prove to be an unlikely ally as they bet on more gains.
Monetary policy is shaping up to be a key issue in the run-up to next year's presidential election, with candidates expected to focus on ways to rein in soaring household debt, rising debt loads and asset-price bubbles. The case for higher interest rates got a boost Tuesday after Governor Lee Ju-yeol indicated the central bank may tighten in November.
The nation's three-year yield has jumped 40 basis points since end-August as its U.S. counterpart climbed and the Bank of Korea laid the ground for more rate increases. The hawkish tilt mirrors the stance of developed-market central banks and could set the stage for other Asian policy makers to follow suit.
"From the perspective of foreigners, the noise around South Korea's housing market is not a positive," said Moon Hongcheol, a fixed-income and FX strategist at DB Financial Investment Co. "That factor has contributed to the rise in bond yields lately and could cause them to edge up higher."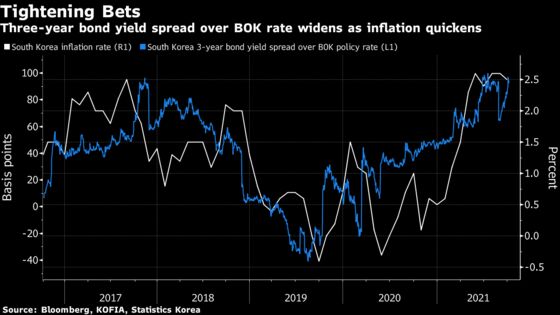 Three-year government bond yields jumped nine basis points to 1.80% on Tuesday after central bank Chief Lee flagged worsening financial imbalances, growing price pressures and a solid recovery momentum. He added that two policy board members disagreed with the decision to stand pat on Tuesday as they saw a need for a tightening.
Swap markets are pricing in more than an even chance of a rate hike next month.
Higher interest rates would complement the government's efforts to rein in household debt, which jumped 10.3% from a year earlier in the April-June period, the fastest pace since 2017. The authorities are keen to curb asset-price gains as unaffordable housing is a key factor that has drained support for President Moon Jae-in's administration.
The opposition has also weighed in on the issue, with a contender in the presidential race warning that debt levels are unsustainable and the housing market could be headed for a collapse. The candidate who won the presidential primary for the ruling Democratic Party has also vowed to launch real estate reforms to rein in debt levels.