Cash Grab Teachers Will Get an Additional $500 Each After Stunt Went Viral
(Bloomberg) -- A junior ice-hockey team in South Dakota apologized Monday for a "Dash for Cash" stunt in which 10 local teachers fought over 5,000 $1 bills in front of a crowd of cheering fans. Together with the mortgage lending company that funded the event, the club will be donating more money to teachers — without any outsized demands for how they earn it.
Several videos of the event, which was hosted by the Sioux Falls Stampede and funded by local mortgage lender CU Mortgage Direct, went viral over the weekend, when Sioux Falls Argus Leader reporter Annie Todd tweeted a thread in real time. Ten of the 31 teachers who applied to participate scrambled across a rug at the center of the ice at the Denny Sanford Premiere Center in Sioux Falls, South Dakota, to gather as many $1 bills in their shirts as they could. Their takeaways ranged from $376 to $616. Participants said they would be using the winnings for their classrooms, equipment, and more.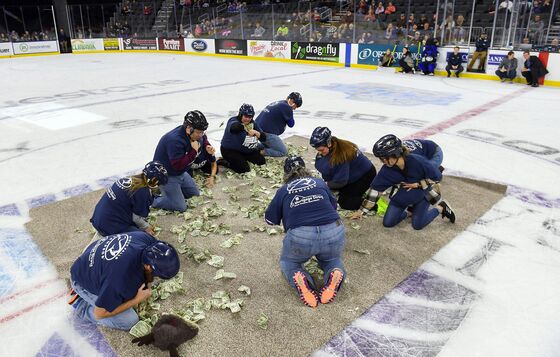 "Although our intent was to provide a positive and fun experience for teachers, we can see how it appears to be degrading and insulting towards the participating teachers and the teaching profession as a whole," the Stampede, a member of the United States Hockey League, and CU Mortgage Direct wrote in a joint statement after the stunt earned widespread condemnation on Twitter. "We deeply regret and apologize to all teachers for any embarrassment this may have caused." 
"The USHL reached out to the Sioux Falls Stampede organization on Monday upon hearing of the promotion to discuss the public perception of their 'Dash for Cash' promotional event," USHL President and Commissioner Bill Robertson wrote in an emailed statement to Bloomberg News. "The USHL is sensitive to this situation and value of teachers in our communities. The USHL does not review or approve of promotions of our Member clubs, but endorse the Stampede's efforts in raising awareness of the need for more money for our schools across the country."
The Stampede and CU Mortgage Direct pledged an additional $500 to each of the 10 teachers who competed in the event, as well as to each of the 21 other teachers who had applied.
According to the Education Data Initiative, South Dakota ranks 38th in education spending and 39th in education funding nationwide; schools spend an estimated $10,178 per student, and receive an estimated total of $11,912 per student from federal, statewide, and local funding. The National Education Association notes that South Dakota's average teacher pay is $48,994, the lowest in the nation. The Sioux Falls school board voted to raise starting salaries for teachers to $41,000 in May. Even so, South Dakota reported a shortage of teachers at the start of the fall 2021 semester, in large part due to low pay.
U.S. teachers often buy supplies for their own classrooms with their own money. During the pandemic, many also purchased personal protection equipment for themselves and their students.
"With everything that has gone on for the last couple of years with teachers and everything, we thought it was an awesome group thing to do for the teachers," Ryan Knudson, the Director of Business Development and Marketing for CU Mortgage Direct, told the Argus Leader after the event. "The teachers in this area, and any teacher, they deserve whatever the heck they get."
Now, however, they hopefully won't have to go viral to earn it.