Singapore's Chan Sees More Online School Learning in Covid Shift
Singapore's Chan Sees More Online School Learning in Covid Shift
(Bloomberg) -- Singapore plans to move more school lessons online and make better use of technology to improve the learning and teaching experience, Education Minister Chan Chun Sing said Wednesday. 
Transmission of knowledge can be done via digital channels, which will free up in-person school time for pupils to sharpen their collaborative skills and creativity, Chan said in an interview to be broadcast as part of the Bloomberg Asean Business Summit. The minister also sees technology as "a great enabler" that helps lighten the workload of teachers and accelerate the pace of education.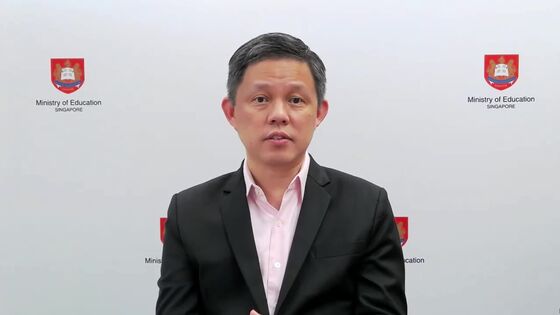 "We will move more and more of our lessons online, allowing our students to do more self-paced learning" Chan said, citing the experience from the Covid-19 pandemic. The city-state began preparations for virtual classrooms even before the start of the virus spread, he added.
The global health crisis has wreaked havoc at schools across continents, forcing them to either shut or move to online learning. While almost 90% of Singapore's population has access to the Internet, Chan said the city-state had a "fair share" of difficulty in the sudden shift to virtual lessons as some families do not have broadband at home, he added.
The government has been providing resources to families in need to ensure students have devices and Internet access for their education, said Chan. Many larger countries have been able to use technology to enable penetration of quality education, he said.
Other highlights from Chan's interview:
The ability to assess a plethora of information is a new skill set required for students.
Singapore also seeks to encourage life-long education among adults.