Singapore Poised to Allow Crypto Derivatives on Approved Venues
Singapore Poised to Allow Crypto Derivatives on Approved Venues
(Bloomberg) -- Singapore's financial regulator has proposed green-lighting crypto-token derivatives to list and trade on approved domestic exchanges.
Under the proposal, trading of derivatives on common cryptocurrencies such as Bitcoin and Ether will be subject to the Securities and Futures Act, the Monetary Authority of Singapore said Wednesday in a statement. The plans are in response to interest from hedge funds and asset managers that trade such products, the MAS said.
Singapore is joining the global race for crypto derivative trading as institutional investors increasingly seek ways to hedge their exposure to the assets. Giant U.S. bourse operators CME Group Inc. and Intercontinental Exchange Inc. already offer futures and plan to introduce other derivative products in the next few months.
The amount of derivatives traded worldwide on Bitcoin alone is around $5 billion to $10 billion a day -- exceeding spot volume by 10 to 18 times -- according to recent estimates from data trackers Skew and BitcoinTradeVolume.com. The volumes were about equal at the start of the year, though definitive figures are hard to come by from exchanges.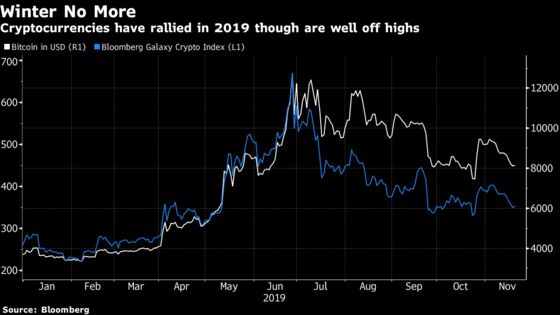 "MAS's proposal will allow approved exchanges in Singapore to meet the need of investors to manage their exposure to payment tokens while bringing the activity under regulatory oversight," the regulator said in the statement.
In September, ICE's Bakkt platform debuted Bitcoin futures that settle in the digital currency, and the bourse plans to offer options on them next month. ICE Futures Singapore aims to launch a cash settled futures contract on Dec. 9, it said. CME Group, the world's largest exchange operator, has offered cash-settled Bitcoin futures since December 2017 and will introduce options on them in January.
"A clear regulatory framework will support the healthy development of digital-asset markets," said Jennifer Ilkiw, vice president for Asia Pacific at ICE. "We appreciate that MAS is moving ahead with this consultation. Bakkt and ICE have created an end-to-end regulated solution for Bitcoin markets on both ICE Futures U.S. and ICE Futures Singapore to address the needs of institutional traders."
While Singapore Exchange Derivatives Trading Ltd., a local unit of Atlanta-based ICE, and Asia Pacific Exchange are among the MAS-approved venues, none of them currently list such products. The regulator doesn't plan to include crypto derivatives that aren't offered by an approved exchange, it said.
"Asia Pacific Exchange is extremely keen to take the lead in offering Payment Token Derivatives on an approved exchange in Singapore," APEX's Nelvin Toh wrote in an email. "Our teams have already commenced product research and development prior to this, and will continue to calibrate our product specifications in close consultation with both industry players and the MAS."
SGX is taking a different approach. Recently, the bourse told Bloomberg that it had looked at offering physical Bitcoin futures, but after studying the technology, couldn't overcome concerns about becoming a Bitcoin custodian.
"SGX currently has no plans to launch payment token derivatives," an SGX spokesperson said. "In developing new contracts, we apply our strengths in market infrastructure and counterparty risk, working closely with clients to meet their investment and risk-management needs."
The MAS is encouraging a cautious approach for retail investors, saying it considers crypto derivatives "not suitable" to most of them. Proposed measures include a minimum 50% margin requirement for retail investors, according to the monetary authority.
"Retail investors are strongly advised not to trade in payment token derivatives, and even if they choose to do so, should exercise utmost caution," the regulator said in a consultation paper on the subject.
--With assistance from Olga Kharif.
To contact the reporter on this story: Chanyaporn Chanjaroen in Singapore at cchanjaroen@bloomberg.net
To contact the editors responsible for this story: Marcus Wright at mwright115@bloomberg.net, Joanna Ossinger, Dave Liedtka