Sinclair's Sports Network Rallies on Future Betting, Debt Deals
Sinclair's Sports Network Rallies on Future Betting, Debt Deals
(Bloomberg) -- Investors are growing more optimistic about the future of Sinclair Broadcast Group's troubled sports networks as the company works to expand its programming outside the traditional pay-television business.
Bonds tied to Sinclair's Diamond Sports Group LLC unit rallied Monday after Bloomberg News reported that the broadcaster was evaluating options to rework its debt load and is nearing new marketing deals with sports betting companies. The gains come after weeks of sliding prices that saw some of the debt fall to around half of face value. Sinclair's shares also gained as much as 2.4%, trading at $32.90 as of 1:37 p.m. in New York.
Sinclair is seeking to grow its sports business through sports betting deals like one it signed with casino operator Bally's Corp. last year, and a direct-to-consumer offering that would bypass cable TV. Sports gambling is now legal in around 18 states, a number that's expected to increase, said Stan Manoukian, founder of Independent Credit Research. That will present new opportunities for broadcasters.
"Casino owners are trying to reposition themselves into gaming companies, and not only do they want their customers to be able to make a bet on some sports events, but also to be able to watch these events on their devices," he said.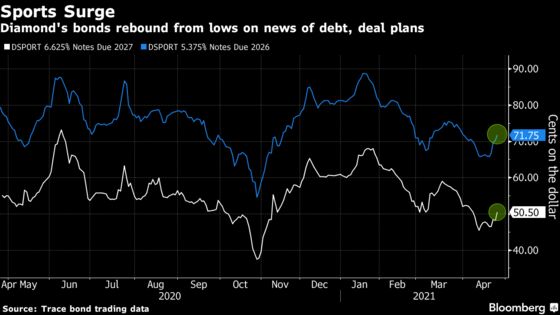 The Bally's transaction gave Sinclair a naming-rights fee in exchange for rebranding its 19 regional sports networks under the casino name. The channels will also broadcast Bally's-produced content during breaks, and the casino operator agreed to spend a percentage of its advertising budget on Sinclair-owned outlets.
At least two companies are in talks with Sinclair over partnerships similar to the one it entered into with Bally's, a person with knowledge of the matter said last week.
"For a company like Sinclair, this adds a new element of engagement," said Barry Jonas, a gaming research analyst at Truist Financial Corp. "The nature of how people absorb sports has changed."
Diamond Sports, which owns licenses to Major League Baseball, National Basketball Association and National Hockey League games, has been struggling to manage its heavy debt load ever since Sinclair bought the networks from Walt Disney Co. in 2019 for $9.6 billion. The deal was financed with high-cost junk debt that fell to distressed levels as the company struggled to sign and maintain deals with carriers like Hulu LLC and Dish Network Corp.
The Covid-19 pandemic hobbled Diamond further when live sports were temporarily halted. Sinclair later wrote down its investment in the networks by $4.23 billion.
With live sports back, Sinclair is working on a direct-to-consumer app that would allow its customers to watch their favorite teams without a cable package. Chief Executive Officer Christopher Ripley said in November that it was aiming for a spring launch.
Now, Sinclair is keen on reaching an agreement with debt holders to trim its borrowings and reduce interest expenses. The company is talking with Diamond creditors and outside investors about potential deals after a previous debt swap attempt garnered little traction. Proposals from existing investors include providing new financing in exchange for enhanced creditor protections.
Talks are ongoing and plans haven't yet been finalized, with investors still free to trade their securities. Sinclair aims to reach a resolution building off the the various proposals it received taking into account investor feedback, people with knowledge of the matter told Bloomberg on Friday.
"Any proposal the company accepts is likely to both reduce leverage and all-in interest expense," said Ben Briggs, a credit analyst at StoneX Financial Inc.
Investors will be listening for further updates as the company is scheduled to release its first quarter results on May 5. For the previous quarter, Sinclair reported consolidated cash of $1.259 billion, including $783 million at the Diamond unit.