Crypto-Focused Silvergate Jumps on Blowout Earnings Report
(Bloomberg) -- Silvergate Capital Corp. surged by the most in more than a month on Tuesday after the cryptocurrency-focused bank reported first quarter earnings that came in ahead of consensus forecasts.
Shares of the firm jumped 13%, the biggest one-day leap since March 9, after revealing earnings-per-share of 79 cents for the first three months of the year, 75% higher than the average analyst estimate of 45 cents, according to data compiled by Bloomberg. The bank also reported that its number of digital currency customers had jumped to 1,503 from the year prior, an increase of about 36%.
"The combination of higher rates plus Silvergate's ability to put cash to work in higher yielding assets should have a dramatic impact on the bank's earnings power moving forward as shown in the first quarter," KBW Michael Perito wrote in a note.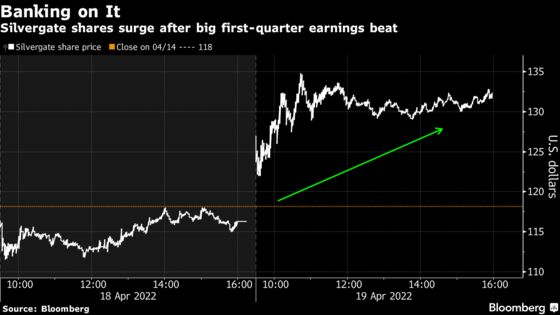 Despite a rocky start to the year for many digital tokens, average digital currency deposits at the bank continued to grow, reaching $14.7 billion. Meanwhile, Silvergate's Exchange Network Leverage program -- which helps provide access to capital through dollar loans collateralized by Bitcoin -- saw commitments rise to roughly $1.1 billion, nearly doubling from the end of last year.
Earlier this year, MicroStrategy Inc. announced that it had received a $205 million loan from Silvergate, backed by about $820 million in Bitcoin using the SEN Leverage program.
Shares of Silvergate have been volatile this year, largely tracking the movement in Bitcoin prices. The stock has fallen about 18% since hitting a three-month high late last month and is down roughly 11% so far this year following a 99% surge in 2021.
Other crypto-linked stocks also pushed higher on Tuesday, aided by a second straight day of gains for Bitcoin. Shares of Coinbase Global Inc., Marathon Digital Holdings Inc. and MicroStrategy Inc. all gained by at least 2.5%. BitNile Holdings Inc., which surged 29% on Monday after reporting annual revenue growth of 120%, fell 14%.