Shopify Says Tight Engineering Labor Is Biggest Check on Growth
Shopify Unfazed by End of Lockdowns, Sees Record Sales in 2021
(Bloomberg) -- Shopify Inc.'s blockbuster second-quarter earnings --129% higher than analysts were expecting -- got a hefty boost from lower-than-expected hiring costs.
"Engineering hiring is probably the biggest limiter to Shopify's growth," Harley Finkelstein said in an interview after the results. The company had hoped to hire 2,021 new engineers this year and current conditions mean "obviously, it's hard to do that," he said, without disclosing the number that have been hired.
A tight market for talent is a worry for many industries but none more so than technology. Universities are not producing enough new engineers and the entire sector is competing for graduates, Finkelstein said.
The Canadian e-commerce company on Wednesday reported revenue of $1.1 billion for the second quarter, putting it on pace to top $4.4 billion for the full year, 52% higher than last year, according to analysts' estimates. That's despite an expected moderation in the pace of e-commerce growth as consumers return to shopping at brick-and-mortar stores.
"I think that means more normal growth rates but remember, Shopify's normal is still pretty spectacular," Finkelstein said.
Gross merchandise volume, or GMV, grew to $42.2 billion in the second quarter, up 40% from the same period last year. The number represents the sales made by online merchants through Shopify's platform, for which the company charges fees.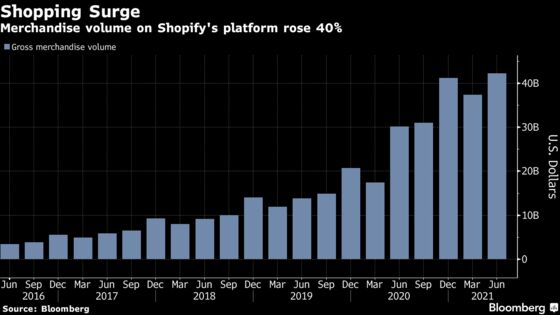 In areas that have begun to reopen, like the U.K., GMV actually accelerated compared to last year, "indicating that online and in-store commerce are no longer mutually exclusive," Finkelstein told analysts during the earnings call.
While the company will likely maintain its biggest staff footprint in Canada, it expects to hire more new employees from the U.S., Europe and elsewhere, he said. The company's shift to a "digital by design" philosophy means employees can work from anywhere, broadening the potential talent base.
"For almost 12 years of my time at Shopify our talent pool has basically been either a Canadian talent pool or people who are willing to move to Canada. That's over now," Finkelstein said in the interview. The company is not concerned about wage pressures because "we've always paid above market and we continue to pay above market."
Shopify shares were down 1.3% at 2:02 p.m. in New York. They've risen about 36% this year compared with a 16% gain for the S&P/TSX Composite Index.
The company has surpassed analysts' expectations for adjusted profit every quarter since it went public in 2015.
"They beat on our gross margin estimates for both line items, the subscription revenue side and the merchant solutions side," Jefferies analyst Samad Samana said following the results "A big driver was that their operating expenses were just a lot lower than we were estimating."
Shopify provided more than $363 million of funding through its capital arm in the quarter and had $7.76 billion in cash, cash equivalents and marketable securities on its balance sheet at the end of June.
The company will not be doing stock buybacks, splits, or issuing dividends as it remains in growth mode, Finkelstein said. "There's no plans for any of those things." It will continue to make acquisitions that help the company grow when they come along, he said.
Meanwhile, the company's size -- it now has a market capitalization of nearly $200 billion -- would make it "challenging" for most companies to launch a takeover bid. "We want to remain independent so we don't spend anytime thinking about that whatsoever."