Serbian Central Bank Holds Rates Amid Efforts to Support Dinar
Serbia's central bank kept borrowing costs unchanged at a record low, pausing its policy-easing that's helped to rekindle economic growth.
The decision to leave the benchmark at 2.25% followed three surprise rate cuts that echoed monetary easing in the U.S. and the euro area. While Serbia's inflation remains at the bottom of the central bank's tolerance band, its economic expansion picked up speed in the third quarter to bring it closer to the government's goal.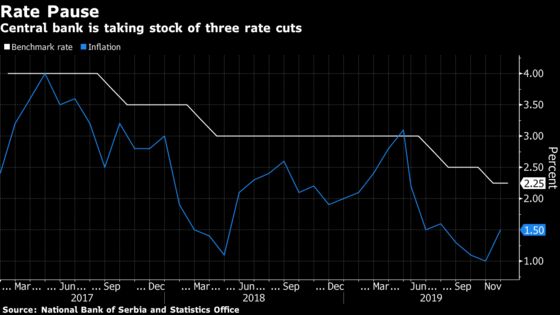 "Inflation is low and stable, and according to the November projection, it should move around the lower end of target tolerance band by the middle of next year," the bank said in a statement. "It's still uncertain how the monetary policy of leading central banks in the coming period will differ from market expectations, which could affect capital flows to emerging markets."
Gross domestic product growth accelerated to 4.8% in the three months through September, but inflation fell to a three-year low in October as a result of strong dinar, low import prices and delayed increases in regulated prices. November figures released Thursday showed annual consumer-price inflation at 1.5%.
"Even though low inflation would still justify some easing, this week is full of decisions of major global central banks and market expects them to pause easing," said Jakub Kratky, an analyst at Generali Investments in Prague. After gross domestic product growth accelerated in the third quarter, "the need to support growth in Serbia is now less urgent," and further easing may follow in early 2020, he said.
A strong expansion, average monthly wages of 500 euros ($554) and a stable currency are the cornerstones of President Aleksandar Vucic economic promises before elections due in the spring.
While the central bank, run by Vucic's ally Jorgovanka Tabakovic, had tried to slow down dinar appreciation for most of the year, it reversed the interventions last month to prop up the currency. By Dec. 9, the bank had sold 405 million euros and bought 2.73 billion euros in the market in 2019.
After holding fire, the central bank may opt for additional cuts in 2020 as low inflation has allowed it to "sync its monetary policy cycle to that of the ECB," Erste Group Bank analysts said in a report.
To contact the reporter on this story: Gordana Filipovic in Belgrade at gfilipovic@bloomberg.net
To contact the editors responsible for this story: Andrea Dudik at adudik@bloomberg.net, Peter Laca, Michael Winfrey