Santander Sees Highest Profit in a Decade as Provisions Drop
(Bloomberg) -- Banco Santander SA delivered its highest adjusted profit in more than a decade as provisions for loan losses fell and its U.S. unit rebounded, bolstering Chairman Ana Botin's bid to restore gains eroded during the pandemic.
The bank's net income more than quadrupled, topping analyst estimates, as provisions fell by almost half. Underlying profit jumped to 2.14 billion euros, the highest result since the second quarter of 2010, helped by progress in the firm's cost-cutting drive.
Botin's tone has become increasingly upbeat recently on signs that the worst of the pandemic has passed, while business activity remains robust. The bank recently signaled that it expects profitability to be at the top end of its forecast this year, and that it plans to return about 40% of underlying profit to shareholders once the European Central Bank gives the green light for increased payouts.
The shares fluctuated between gains and losses in early Madrid trading, and were down 0.9% to 3.03 euros as of 10:15 a.m. local time. The stock is up about 19% this year.
Santander is shedding thousands of jobs in Spain and shuttering a fifth of its U.K. branches as the bank emerges from what Botin last month described as a "year like no other," when the bank racked up huge losses because of writedowns on assets hurt by the weakened economy.
The bank booked a 530 million-euro net charge linked to expected restructuring in 2021 as it continues with its cost-cutting drive. Santander said in October it would target an additional 1 billion euros of savings in Europe over two years.
While Santander has less of an investment banking presence than some of its rivals, its reduced spending is helping the bottom line. Operating expenses were down 8% year-on-year and the bank also saw growth in loans.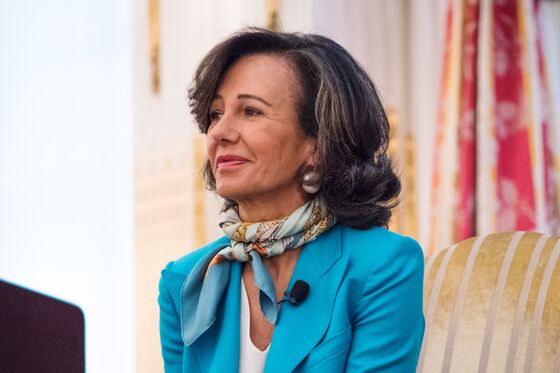 "We saw good performance across all our regions, with particularly strong growth in the U.S., the U.K. and Santander Corporate and Investment Banking," Botin said in the statement. Last month, she told shareholders that a strong performance by the bank in the first quarter would drive the business to an underlying return on tangible equity of about 10% for the full year, compared with earlier estimates of 9%-10%.
Santander will accrue 40% of underlying profit throughout this year to remunerate shareholders once authorized to do so by regulators, Botin said. The bank has previously said it intends to restore a shareholder remuneration of 40%-50%. The European Central Bank has called on banks to limit payouts to 15% of 2020 profit and said they will revisit the situation in September.
Many European banks were disappointed by the ECB's decision as they sought to boost dividends and buy back shares. Switzerland's largest lenders are already pushing ahead with fresh repurchase plans after containing provisions and signaling that they don't expect the ongoing pandemic to have a significant impact on earnings, while Spanish rival Banco Bilbao Vizcaya Argentaria SA plans to buy back about 10% of its shares later this year.
Net interest income fell 6.3% to 7.96 billion euros, even as it slightly beat analyst estimates.
Underlying profit from the U.S. jumped to a record 616 million euros from 60 million euros a year earlier, while at Santander's U.K. business, underlying earnings rose to 294 million from 52 million euros a year ago after customer balances rose and deposits repriced. Underlying profit also gained in Spain and Brazil.
Net interest income EU7.96b

vs

est. EU7.91b
Bad loan ratio 3.2% from 3.21% in fourth quarter
CET1 ratio (phased in) 12.3% from 12.34% in fourth quarter; fully-loaded was flat at 11.89%
Net loan loss provisions EU1.99b,

vs

EU3.91b a year ago